Before we begin, let me draw to your attention that there are 3 Ways to Interface with Any Moment – and thus with any of the emotions that we are about to explore.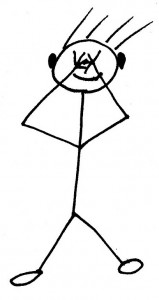 The first option is denial – to 'not notice', to turn a blind eye, to be unconscious of.  Denial serves a temporary purpose – sometimes.  It allows us to remain unaware of something until we have the sufficient maturity, inner resources and attention available to deal with it.  Often denial is a 'default' which keeps us out of our power and in our disillusioned sense of ourself.
____________
Listen to this post as a 'podcast'! '3 Ways to Engage in Any Moment' – #1 recorded using the omni-dimensional 'Star Microphone' by Wehnersound.
____________
* This post is #32 in a series of syndicated excerpts from The Power of Anger – Blasting Through Your Limitations and Transforming The World by Ariole K. Alei. Order the book – softcover shipped to you, or instant download. Or listen to the 4-Part Audio Course.
* Images with gratitude to  The Power of Anger.