What's so intriguing about Gandhi is how he transformed himself.  One of the most influential people of all time, he didn't lead a nation of 400 million Indians to freedom and self-government as the man he was when he began this epic journey.  He led it as the man he was committed to becoming.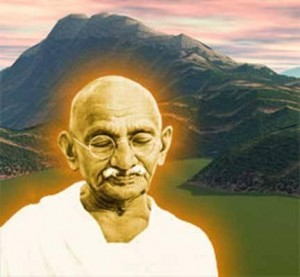 Gandhi's story – and his incredible and timely / timeless example to us – is that if something isn't working, we must become what can allow it to work.
            This is such a colossal statement.  Just as Einstein said, "We can't solve …", if something needs fixing, don't fix it.  Rather, step ourselves up – to a higher state of vantage, of response-ability, of maturity, of compassion.  And from this embodied sentinel, we can then envision a solution which is actually that – a resolution, rather than a counter-attempt, a 'fighting against' what currently is.
            Gandhi, in his early years in South Africa, intuitively knew that 'fighting against' something that was already violent and ignorant (I use this work in Buddhist terms – meaning 'absence of awareness') would not release it from a violent hold.  To ease an initiative that stems from violence, we must have the wisdom and the foresight and the courage to 'step u' – beyond the vibration, the consciousness, of violence itself.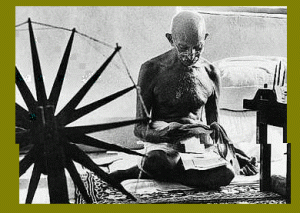 In this way, we 'unhook' it.  We unhinge it.  We disarm it.  If we fight against it, we merely stoke it.  And stoking a violent fire merely burns the things and values and people we cherish.
__________________
Read more in recent related posts including "Gandhi – Self-Reflection as a Way of Leading (Part 2)"  🙂
Questions to Ponder:  If you were to name the greatest contribution Gandhi made to humanity and our evolution, what would it be? In what ways do you demonstrate or explore this yourself? Has Gandhi inspired you in some way? How?
Now you can purchase our Books and Audio Courses directly from URLight!  Click on the rotating images in the upper right corner of each page 🙂   Enjoy!
Are you interested in 1-1 support in exploring this further for yourself?
*Images with gratitude to 1.sulekha.com, indiaspace.com