Have you ever tried to get a Jack-in-the-Box in the box?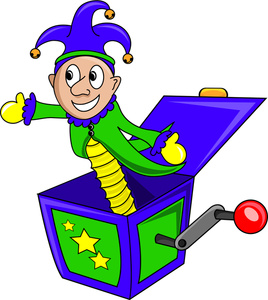 A Jack-in-the-Box is a cloth puppet sitting atop a tightly coiled spring.  When the lid of the box is lifted, 'Jack' springs out, joyous and full of life.
            Getting Jack back into the box requires much strength and determination to push downward against his naturally-freedom-oriented coils.  When you do finally get the coils sufficiently suppressed to force the lid down and hook the box shut, much energy has been spent.
            This is an apt analogy of what it takes to keep our wounds shut in.
            Tremendous energy is consumed every day of our lives keeping our wounds out of sight – out of feel.
            This precious energy is not available to us to live.  Its application – its sole job – is to keep Jack out of sight.
            As we heal our inner wounding, Jack is set free.  Our latent, powerfully creative energy is accessible to us again.  And we are in a position to contribute to the world in ways that truly fulfill our dreams.
* Excerpt from H.O.P.E. = Healing Ourselves and Planet Earth – A Blueprint for Personal and Collective Change by Ariole K. Alei.
Read more in "Re-Awakening Our Ability to Vision" and "Our 'Canopy'" plus other forthcoming and recent posts excerpted from  H.O.P.E. = Healing Ourselves and Planet Earth  🙂
Questions to Ponder:   What tastes have you had – so far in your life – of letting Jack out of your box?  How does this whet your appetite to set Jack – you – even more free?
Are you interested in 1-1 support in exploring this further for yourself?
*Image with clipartclipart.com
Comments Note:   If you wish to post a Comment, please first read the FAQ page for guidelines to ensure your Comment has a high likelihood of being approved / made visible for others to read, enjoy, and be inspired by.  Thank you!