When I was at the 1992 UN Earth Summit, the era of thinking was that, to curb the global climate crisis, we would have to fall back to simpler, less evolved ways.  We would have to 'give up' so much of what we've gained since the advent of Agriculture and the Industrial Revolution.  We would have to become 'primitive' again.
            Hmmm.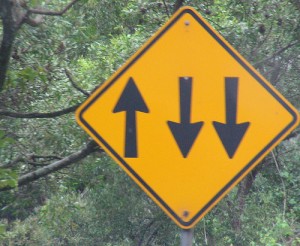 This mis-perception arose from a singular angle of logic – one that apparently was the most obvious and thus predominant at the time.  We viewed our options in terms of black and white. We could either go forward, or we could go back.
            Not surprisingly, this wasn't a palatable choice for most people.  It reeked of self-sacrifice and of turning back the clock to suffering the hardships of nature – like animals do.
            As I perceive our collective options now, I vision a beautiful soup of fragrant aromas, zesty flavors and inspiring shapes, all important and all complementing each other.
            There are two primary elements to these options:
            1.         Attend to our personal inner healing, Now.
            2.         'Step up' into our genius, applying our brilliance cooperatively to the global application of our full human potential.
* Excerpt from H.O.P.E. = Healing Ourselves and Planet Earth – A Blueprint for Personal and Collective Change by Ariole K. Alei.
Read more in "Healthy Humans = Healthy Relationships" and "The Solution – Applying Our Brilliance to a Larger World View" 🙂
Questions to Ponder:  What is your sense of what needs to happen to ensure that our society – human society – doesn't collapse?  What is your vision – your model, your sense – of what is required?
Are you interested in personal mentoring to explore your leadership role in this further?  
* Images with gratitude to 4.bp.blogspot.com, sealbait.com