In 1992 (some of you may not have been born then!) I felt called to participate 'live' in the most important global gathering of the century – the United Nations Earth Summit, to be held in Rio de Janeiro, Brazil.  As I recall, some 180 heads of state gathered (an unprecedented showing) to discuss the critical implications of human development on the environment.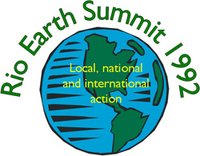 Leading up to this monumental event, I noticed that something was shifting in the mainstream media.  There seemed to be a sudden 'spike' in the volume of information being presented of a tragic, traumatic nature: global environmental crises, domestic violence crises, and more.
            What I noticed – as I stepped back and observed – was that this 'news' was sometimes sensationalized and always skewed to the negative: what wasn't working on planet Earth.  Rarely, if ever, did a news broadcast include even one story of the wonderful initiatives that humans are taking.  Unless, that is, a 'quaint', cute story was including to 'seal the deal' – to top the horrific news with a pink ribbon bow.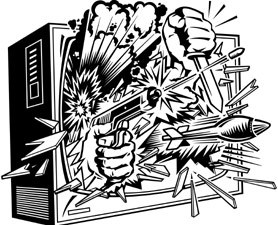 Even more disturbing was my awareness that – this 'news' was being presented, shocking as it was, without any suggestions of what the viewers and listeners could do about it.  What they could do, themselves, to help alleviate the suffering that they were now being witness to, in droves.
            The result?  I noticed more and more people tipping into overwhelm.  Feeling paralyzed in their perceived inability to contribute in a meaningful way, they began to numb out.  They began to desensitize.  They began to not notice.  The distinctions between 'real life' and 'media' – the stories we make up as 'entertainment', regardless how frightening or gory they may be – was becoming more and more difficult to differentiate.
            And so the isolation of the millions of people who do have tremendous power to influence change – the everyday people of this world – was being essentially 'turned off' as a result of their overwhelm and paralysis.
__________________
Read more in "Underwhelming the Overwhelm – Part 2" 🙂
If you are reading URLight, let me know you value it be writing a Comment! Thank you 🙂
Questions to Ponder:  What sources do you get your 'news' of what's happening in the world from? What is the ratio of 'bad' news to 'good' news – that is, fear-based to inspirational news stories? How do you feel during and after watching, listening to, or reading 'the news'?
Now you can purchase our Books and Audio Courses directly from URLight!  Click on the rotating images in the upper right corner of each page 🙂  
Plus enjoy our 'Weekly Specials' – deep discounts on our Books and Audio Courses.  Enjoy!
Are you interested in 1-1 support in exploring this further for yourself?
*Images with gratitude to eoearth.org, news.discovery.com