Anger is a vibration – an emotional vibration.  It exists – it arises and it falls away – on a continuum of emotional vibrations.  Just like a sound – a pitch – in a song.  Just like a light in the sky as the sun rises, burns and sets.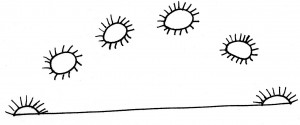 I am about to guide you on a journey that you are familiar with yet unconscious of.

In-so-doing you will come to recognize where anger 'fits' on the continuum of emotions – what spirals down beneath it and what, when you have its rocket fuel engaged, you can spiral up to above it.  With this map in hand you will recognize the enormous value of befriending your anger – and the astronomic cost of failing to do so.  At the end of this journey I will highlight for you a simple practice of how to – at will – position yourself anywhere on this emotional rainbow you wish to be.  This … is empowerment.  This … is liberation.
____________
Listen to this post as a 'podcast'! Where Anger 'Fits' – Part One recorded using the omni-dimensional 'Star Microphone' by Wehnersound.
____________
* This post is #30 in a series of syndicated excerpts from The Power of Anger – Blasting Through Your Limitations and Transforming The World by Ariole K. Alei. Order the book – softcover shipped to you, or instant download. Or listen to the 4-Part Audio Course.
* Images with gratitude to  The Power of Anger.