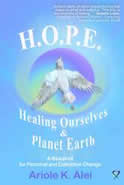 "The truth and power in these words will move your mountain if you let them." - Craig Shearer, Founder, Solar Freedom International. "Ariole's clarity of vision dispels the fog that keeps us small and suffering. This truly is the simplicity of healing." - Isabella Lazlo, Founder, Beloved Mother - Nurturing Ourselves and Our Earth. What will it take to motivate humanity from complacency into solution-directed action to resolve our collective crises of global peace, environmental sustainability, poverty and population explosion to name a few? * Awareness * Vision * and Will. In this ground-breaking new book, Ariole K. Alei deftly connects the dots revealing the direct inter-relationship between personal emotional, mental, physical and spiritual healing, the healing of the rifts within humanity, and the healing of our relationship with our environment.
Want it quick? Download Only $15.95
Listen to the Audio Course based on this Book!
Check our 'Weekly Specials' at URLight!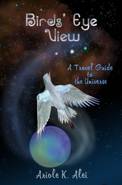 "Birds' Eye View - A Travel Guide to the Universe" is a spiritual adventure with the power of "The Way of the Peaceful Warrior", "The Celestine Prophecy", "Conversations With God", and "The Da Vinci Code". A 'Map' for the awakening of consciousness, it guides the reader on a compelling journey into quantum physics, spirit guides including Shakespeare's soul and God, meetings with the Dalai Lama, past lives, planetary transformation, and the evolution of humanity. A mind expanding 'autobiographical story' spanning 40 Earth years and 'all of Time and Space', "Birds' Eye View" is humorous, intriguing and insightful - as if Shirley MacLaine, Eckhart Tolle, and Stephen Hawking were combined into one 'voice'.
Review in "Issues" Magazine - February 2007
"I read in excess of 50 books a year but I had a unique experience as I finished this one ... I wept. Vancouver-born and based author Ariole K. Alei shares the story of her personal unfolding. With courage and tenacity she exposes her soul and herself to the world. She shares her joys, her pain, her triumphs and her 'failures'. From a secluded cabin in the Shuswap to the snow capped mountains of Dharmsala and audiences with the Dalai Lama, this writer weaves a truly remarkable story. But there is more here than a personal journey ... there is a message and an understanding for us all. Most of you reading these lines are aware of the pivotal time in which we live. Ariole's books speaks to that time. If you believe in spirit - lead life. If you believe in a universal plan, if you believe in honesty, humility and courage, then this book is for you! 10 out of 10"
Want it quick? Download Only $15.95
Listen to the Audio Course based on this Book!
Check our 'Weekly Specials' at URLight!

On Sale! Save 50% - Now Only $10.98
A call to action alike Marianne Williamson's speech for Nelson Mandela in "A Return to Love". A ' brain bath ', this collection of three astute, inter-woven writings opens the human mind far beyond the reaches of analytical thinking. Inspired by processes of deep intuition, these treasures awaken us to the spirit within and the great mystery without, rekindling our memory of the 'puzzle' of which we are all a part. "Awakening Instinct" is a treatise on the vital need for humans to de-fossilize their latent powers - their 'Barometers of Time', lamps with which to light their path. "Running the Gauntlet" opens our hearts wide to experiencing our full potential and recognizing the 'gauntlet' we must run to fully embody it. "Windows Through Time" leaps into the unknown like a Vision Quest, bringing back great riches of conscious understanding. In its gentle yet remarkable journey it makes the nameless, uncharted universe tangible and accessible. A graceful, powerful, life-changing read.
Buy Now! 'Weekly Special' - Save 50%
Want it quick? Download Only $15.95
Listen to the Audio Course based on this Book!
Check our 'Weekly Specials' at URLight!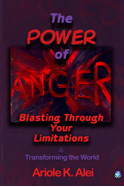 Humanity is at an infantile stage in its relationship with anger. For millennia we have demonstrated two anger options - implosion and explosion - neither of which are sustainable. "The Power Of Anger" lays out - in a succinct, step-by-step format - how anger's purpose is always related to your well-being - and the restoration and/or increase of your personal power. A 'must read' for anyone who lives in dis-empowerment - either cowering in the face of anger or exploding without control. A magnificent read for fast-tracking yourself into clarity, confidence and discovering your true strength.
"An exceptional book of sheer utter strength, pragmatic clarity, and 'how to' - remakable." - Mark P.
Want it quick? Download Only $15.95
Listen to the Audio Course based on this Book!
Check our 'Weekly Specials' at URLight!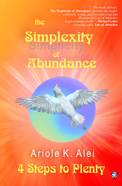 Hot on the wave of "The Secret" comes The Simplexity of Abundance – 4 Steps to Plenty. "Simplexity: Taking something complex and revealing its simplicity." This is precisely what author Ariole K. Alei masterfully does in this practical, visually compelling book. The Simplexity of Abundance guides readers into 4 Steps to Plenty – profound Understanding and highly practical Tools, the Practice of which reaps Consistent and Reliable Results. Exploring the relationship between the Physical and the Non-Physical realities as the Source of anything we yearn for, Alei gracefully weaves mystery and ancient wisdom with present day desires. The Simplexity of Abundance - 4 Steps to Plenty is a 'must read' for anyone wanting more love, health, freedom and/or fulfillment in their life.
Endorsed by Best-selling Authors
Michael Losier (Law of Attraction) - "This book delivers. The Simplexity of Abundance provides the reader with tools, scripts, and exercises to tap into the powerful Law of Attraction to get awesome results."
John Randolph Price (The Abundance Book and Angels Within Us) - "The Simplexity of Abundance is a most comprehensive book on understanding prosperity principles. [It] sets a new tone in consciousness for a life more abundant."
Want it quick? Download Only $15.95
Listen to the Audio Course Fundamentals and Mastery based on this Book!
Check our 'Weekly Specials' at URLight!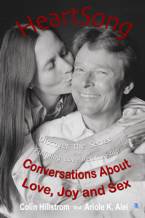 "HeartSong: Conversations About Love, Joy and Sex" is a powerful and poignant foray into why most relationships fail and what to do about it. Colin Hillstrom and Ariole K. Alei are a husband and wife team who have worked with thousands of people worldwide as professional relationship coaches. They offer straight-forward, practical advice and inspiring solutions for anyone interested in achieving more fulfillment and satisfaction in their relationships and their life as a whole. HeartSong is written in a conversational style which engages the reader from the first page to the last. Supported with beautiful graphics, it is filled with rich wisdom, insight, and real life stories including chapters such as The Soul and The Ego, Love and Respect, Enlightened Communication, Life Balance, Becoming Allies, and New Paradigm Relationships.
By Ariole K. Alei and Colin Hillstrom
Review in "Issues" Magazine - April 2007
"This book is so easy to read because it is in the form of a convesation between the two authors, and you flow along with them, becoming the third point of the triangle, witnessing the wisdom and skill in their dialogue. They are a married couple, sharing from their past and presnt, and in learning about them, you may well find you learn about yourself also.
"Many people enter a primary relationship with the attitude that if they have to ask for help, then there is something intrinsically wrong with that relationship. Most women giving birth to their first child don't expect to instantly be equipped with all the right attributes of parenthood - they read the books, attend classes, ask questions, and never assume that they are lacking as parents by seeking out the information and guidance. So when we meet that man or woman who may partner us for the foreseeable future, why do we feel that we should know everything about being in relationship with another?
"As they lob the conversation back and forth, the authors speak profoundly yet simply about intuition, compassion, forgiveness, gratitude, spiritual consciousness, and, of course, being in a loving and fulfilling relationship. This is not a text-book, it is a living guide for you to use to grow, heal, nurture and thoroughly enjoy your loving relationship. I was drawn to this book because relationship issues are at the heart of my practice, and I am pleased to say that it will be on the short list of highly recommended books for clients and friends alike. A final delightful point: as well as giving you some questions and exercises to get you thinking and moving forward, the authors invite you to write the last chapter! Wonderful."
Want it quick? Download Only $15.95
Listen to the Audio Course based on this Book!
Check our 'Weekly Specials' at URLight!
"When A Man Really Loves a Woman" is a collection of Poems, Essays, and "The 12 Steps To Paradise". Word by word, it unveils the Secret to creating and stepping into a sacred, spiritual relationship in which a man and woman evolve consciously, through their mutual love and respect. This book, rich with wisdom and warmth, guides readers with clarity and purpose toward their own increased love, joy, peace and, ultimately, enlightenment. Including such chapters as … Spiritual Warrior Kings, Tantra Man, Making Love in the Now, The Spiral of Love and Life, Spiritual Consciousness, and The Power of Balance.
By Colin Hillstrom
Review in "Issues" Magazine - December 2006
"This is a collection of earth wisdoms which speak to the heart. A woman can only receive from a man that which he is capable of giving, writes Hillstrom, and as such our relationships mirror who and what we are. This book is divided into two sections: first, why we must love more, and second, what to do about it. Simply put, we must love more because it is the only way we can truly honor our partner. This attitude also activates the ancient truth that 'like attracts like'. I must bring to relationship those things I would take out. The book intertwines poetry, musing, and teachings into a format which both speaks to and motivates the heart. I found "When A Man Really Loves A Woman" a delightful and penetrating read."
Want it quick? Download Only $15.95
Listen to the Audio Course based on this Book!
Check our 'Weekly Specials' at URLight!
On Sale! 50% Off - Now Only $9.99
A joyous journey into consciousness, Colin Hillstrom - international coach and writer - guides readers into the mysteries of the universe and the ease and flow of daily life using metaphors from Rock'n Roll. Quoting song and album titles from our cultural mystics, Hillstrom illuminates how to find true success, love, and inner peace in a truly joyous way. Includes dozens of practical, highly effective ways to use ancient and modern day teachings of Ho'oponopono, David Hawkins' 17 Levels of Consciousness, and more to enrich one's life in a matter of days.
"Bringing the 17 Levels of Consciousness, Ho'oponopono and other components together is very strong and novel. The music themes from Bob Dylan, The Beatles, The Rolling Stones, The Who, Led Zeppelin, The Police, and many others are effective in structuring the book." - Jan W.
By Colin Hillstrom
Want it quick? Download Only $15.95
Your 2nd Life
How to Live the LIFE You Always Wanted!

Are you struggling? Dragging your self around in sluggish dis-ease in your body, heart, spirit or mind? Suffering from lack of love, health, finances or fulfillment? There is hope! Start Here ... Shift your life's 'operating system' from fear to love. Step into the 'updraft' that all spiritual teachings describe. Discover this "incredible lightness of being" - this optimal vitality - as your NATURAL STATE. Enjoy this new state of FLOW in your relationships, health, career and life purpose. How? Let "Your 2nd Life" Coaching CD and Manual "Take YOU to the Top Of Life" TM.
"Your 2nd Life" Life Coaching home-study course is the ideal companion for our books "HeartSong: Conversations About Love, Joy and Sex" and "When A Man Really Loves A Woman - Why We Must Love More And What To Do About It".
"Y2L" consists of a 70-minute CD and Manual which helps you to live your life by design.

By Colin Hillstrom
"Colin walks his talk." - John F
"I have listened through to your CD straight through without stopping. It is jam packed with so much!" - Jan R
"I enjoyed listening to the 'Y2L' CD immensely. Colin's soothing voice put my mind to ease and allowed me to open up to gain insight in so many differentareas of my life, and especially about my relationships." - Brigitte K
Email for the home-study Manual!