As you begin to roll up your sleeves, open your voice and get into this (you will be enormously energized by doing so), it is important to set 3 Ground Rules for Safety.
1.            Don't hurt yourself.  If, for instance, you are Moving Anger Energy by pounding your fists into the mattress of a bed, take a lucid moment to ensure that there are no sharp objects.
When we truly begin to explore this 3rd Way of Expressing Anger, there is nothing 'quasi' about it.  We are not giving ourselves partial permission to turn the anger inwards, hurting ourself, as we apparently are Expressing the Anger Constructively.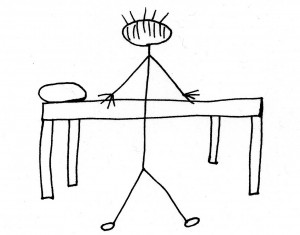 There is nothing vague here.  Check – before you begin to Move the Anger Energy – that there are no objects which you might collide with and hurt yourself in so doing.  Create a safe space for your flailing, your punching, your pounding.  You are doing this to take care of yourself. You are doing this for your health.
_____________
Listen to this post as a 'podcast'! '3 Ways to Move Anger Energy Constructively' – #1 recorded using the omni-dimensional 'Star Microphone' by Wehnersound.
____________
* This post is #22 in a series of syndicated excerpts from The Power of Anger – Blasting Through Your Limitations and Transforming The World by Ariole K. Alei. Order the book – softcover shipped to you, or instant download. Or listen to the 4-Part Audio Course.
* Images with gratitude to The Power of Anger.