Notice How You Feel!
By the way … how do you feel when you allow anger energy to move?
Next time you spontaneously – or through intention – allow anger energy to move, notice how you feel.
Does it liberate you?  Do you feel ten years younger?  Do you feel lighter, like an enormous weight has suddenly disappeared?  Do you smile more often?  Do you laugh? What life have you uncovered that was hidden beneath your crusty old anger?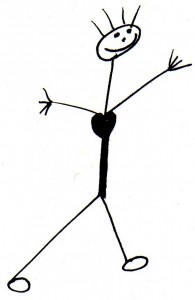 Releasing our pent up anger is all about coming to life.
Have you heard the expression "walking dead".  You have been among them.  Virtually every human has.  Whenever we hold a judgment about anger, and we repress it, we become the walking dead.
Overcome your limiting attitudes about anger.  Before you think too much, just do it.  Just let it out.
You will come to life.  I guarantee it.
Imagine a planet covered in humans who are actually alive …
Any anger
that you've felt and not expressed –
ever –
is a self destructive force
stored inside of you,
now.
____________
Listen to this post as a 'podcast'! Identifying '3 Ground Rules for Moving Anger' in Your Life – Part Two recorded using the omni-dimensional 'Star Microphone' by Wehnersound.
____________
* This post is #26 in a series of syndicated excerpts from The Power of Anger – Blasting Through Your Limitations and Transforming The World by Ariole K. Alei. Order the book – softcover shipped to you, or instant download. Or listen to the 4-Part Audio Course.
* Images with gratitude to The Power of Anger.