Discover THE Most Profound Energy-Saving Device
IN THE WORLD
The Power of Intuition
– Tapping In to Flow, Efficiency and Ease

7-Session Online Course

The most precious energy is yours.
It's not actually money, or time, or electricity, or 'things' – it is your ENERGY.
Growing up in a 'head heavy' culture bears a high price.  We learn to value the intellect over the wisdom of the body, heart and spirit – the very wisdom that keeps us in tune with our well-being and thus our ultimate happiness.  Putting our intellect on a pedestal, we innocently cut ourselves off from the most valuable resource we have – our inner guidance. Our intuition and instinct are too important to ignore.  They are our 'inner compass' – like a beacon of light along a path, they show us simply and clearly what is the right thing to do.
"Ariole's clarity of vision dispels the fog that keeps us small and suffering."

Isabella Lazlo Founder, Beloved Mother, Nurturing Ourselves and Our Earth, Devon, UK
Do you ever 'spin' in your mind – trying to figure things out?  Do you ever 'loop' in worry, confusion, overwhelm, despair?  Do you ever get so immersed in 'problem solving' that – sometimes for long periods of time – you 'never come out'?
These are signs that you are doing exactly what you've been taught … you are turning to a 'limited database' in search of solutions.
No matter how large our database of known information is – it is limited.  When we turn to our intellect for answers, decisions, solutions – we are essentially consulting a database of 'previously known info'.  This includes
Our own past experiences
Our own imagined experiences
What we're been taught / told / modeled by others
What we've researched – which is essentially what other people have experienced, imagined, or been taught / told / modeled by others
What we've convinced ourselves is 'true'
No matter how vast this database of information is, it is still small – tiny – compared with the infinite scope of what your intuition has access to.
When you tap into your intuition, you tap beyond the finiteness of the previously known.
Wow … There is so much to explore here 🙂
Logic, rationalizing, and thinking are high energy investment, low return
Intuition … is low energy investment, high return
The Magic Of Intuition
As 21st century humans, we are taught to orient ourselves in the world predominantly through our 5 outer senses.  Yet … our inner guidance communicates on a much more subtle frequency – like a short wave radio station rather than the local AM band.  To listen to your intuition, you need to be still … and free of fear.
Replace regrets and second-guessing with
Clarity, Confidence, Joy and Ease
The Power of Intuition

"You have a unique ability to inspire and bring out the best in others … I feel fortunate!  Thank you for giving and caring so much."
Bonnie Lindal 'H.O.P.E.' Retreats Core Team, Coquitlam, BC
Tap in to the remarkable clarity, expediency, accuracy, creativity and powerful ease of your intuition today!  Transform your life in such rich ways that you may barely imagine possible 🙂
End the reign of confusion, uncertainty, energy wasting, spinning, overwhelm, second-guessing, paralysis, procrastination, worry, and fear in your life now.
"You are incredible and I expand into great areas when I'm talking with you.  Thanks for all you are and the tools you've given me."

Danny Loiselle Founder, The Natural Cleaners, Executive Leadership Client, Vancouver, Canada
Share this invitation with people you care about!
7-Session Series 
Begin When You Want
"Stop acting so small.  You are the universe in ecstatic motion." ~ Rumi
How is this course unique?
The Power of Intuition is an experiential discovery of you in relationship with your own intuition!  It is not 'academic'.  It is practical, tangible and direct.  Through this course you will strengthen your 'intuition muscle', never again being confused or unsure of what choices to make, what directions to take, what investments to make – of yourself, your time, your money, your innate gifts!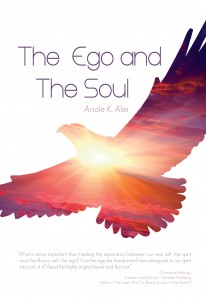 This elemental course is based on Chapter Four – Re-Sensitizing Intuition in the recently released book The Ego and The Soul – Living and Leading From The Inside Out – A Map for Humanity's Ultimate Thrival and also the core principles in Awakening Instinct, the first essay in Awakening Instinct * Running the Gauntlet * Windows Through Time – A Trilogy.
"What is more important than healing the separation between our real self, the spirit, and the illusory self, the ego?  Can the ego be transformed from antagonist to our spirit into part of it?  Read this highly original book and find out."
Constance Kellough Founder and Publisher, Namasté Publishing, Author of The Leap – Are You Ready to Live a New Reality?, Vancouver, Canada
The strength in these teachings is clear and profound – a joyous inspiration that will positively enhance every facet of your life.
Course Faculty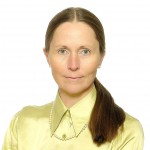 Ariole K. Alei is a respected global visionary.  She has lived her life based on intuition for over 25 years.  She is an executive life and leadership coach, author of eight books, speaker, facilitator, transformational process designer, tele summit leader, mentor, dancer, choreographer, yogini and meditator.  She has returned to the stage after 2 'temporary retirements' and created a 'miracle' in fully healing a broken knee to tour solo – one of the greatest challenges in dance.  She has met personally with His Holiness the Dalai Lama and other world leaders to discuss her visions of "A New Model of Exemplary Global Leadership".  She has been passionately bringing out the best in others since she was a child.  Ariole has co-founded two corporate consulting practices – "bringing spirit into the concrete world" – and two non-profit societies.  Ariole generously shares pragmatic and profound 'routes' to deeper insight, peace and awakening.  She lives in the Rocky Mountains of Canada.
Co-Learning
In the unique environment of these LIVE Tele Classes you will learn in tandem with people like you who are eager to tap in to their intuition.  The Power of Intuition thus becomes the power of community!
Experience Your Optimal Energy Efficiency Now!
The Power of Your Intuition

"Thank you for continuing to answer the call and guiding us through the thinning of this veil.  These are vital times."
Satya Grove 'H.O.P.E.' Retreats Core Team, Vancouver, Canada
Share This Invitation with your Friends!
Absolutely life transforming … not to be missed!
What You Will Gain
In this highly inspiring, interactive course you will
Learn the simple, basic steps that everyone naturally takes when they befriend their intuition … become deeply confident in

your

ability to notice it, trust it, and align with it
Master the art of joyous efficiency … become adept at making quick, confident choices – never again wasting countless hours and endless energy 'spinning in circles'
Tap into your creativity, inspiration, and insight like never before
Experience a taste of

your full potential
The Power of Intuition offers you a key to unlock your inner reservoir of clarity, creativity, innovation, enthusiasm, joy, confidence, pure power, and ease …
The Power of Intuition 7-Session Series is for you if you
Ever waste time 'second guessing'
Struggle with confusion, feeling lost, lack of clarity, boredom, worry, sense of obligation, un-fulfillment, fatigue, resentment, depression, anxiety, dread …
Yearn to make clear choices with absolute certainty
Desire to be more efficient with your precious energy, time, and resources
Sense there may be 'more to life' and actively wish to experience it
Seek adventure, expansiveness, and newness
Want to discover and live

your full potential
"The personal mentoring I have had with Ariole has been invaluable to me.  She has guided me through simple exercises that have had a profound and life changing effect on how I view and interact with myself and with the world around me.  Ariole has a gift of being able to support and encourage new levels of consciousness with her gift of intuition, impeccable integrity, and vision.  My life is richer and more elegant as a result of working with Ariole."
Patricia Gray Executive Leadership Client, Patricia Gray Interior Design, Executive Leadership Client, Vancouver, Canada
Experience Peace, Clarity, Confidence
and Your Pure Power

What is Included
7 90-minute Audio Sessions recorded during a Live International Tele Summit with Ariole K. Alei – now available Online for your learning-at-your-own-pace.  Each is full of insights and tools that will tap you into The Power of Intuition, completely transforming how you live your life as you soar into vibrant clarity, creativity, insightfulness and confident empowerment
7 Dynamic 'Home Play' Explorations – including 'Inquiries' and 'Experiential Practices' – to actively deepen your ownership and integration of this powerful course content
Easy Access to Recordings of All 7 Live Sessions – so you can re-listen as often as you like to what resonates most deeply within you, and what intrigues you most powerfully
And more!
"I still remember the uncontainable joy I felt immediately after my first session."
Eileen Novy Tele Summit Participant, Saskatchewan, Canada
Course Curriculum
Session 1 – Preparing the Field
This session opens the vista wide for your discovery of what intuition actually is.
In this session you will:
Recognize the distinction between Instinct and Intuition
Realize the Source of Intuition, its Purpose, and its Process
Identify what stops you from noticing and heeding your Intuition
Session 2 – Acquiring the Necessities
This session enables you to feel safe in the presence of 'what you don't yet know'.
In this session you will:
Remove the seeds of unnecessary Fear
Develop Discernment
Foster Willingness
Re-Sensitize yourself to Subtle Energy
Remember the True Purpose of the Mind
Session 3 – Attuning your Nervous System
This session assists you to engage with subtle energy – the 'language of intuition'.
In this session you will:
Meet your '4 Archetypes'
Learn how to rest your Nervous System
Develop 'Porous Boundaries'
Discover the '4 Steps to Intuition'
Session 4 – Tapping In to Intuition
With this foundation in place, you can now truly begin to experience The Power of Intuition.
In this session you will:
Explore 'Intuition – The Practice'
Differentiate between Active and Passive Intuition
Develop your capacity to 'Listen In'
Session 5 – Becoming More Adept
Living via intuition is an expansive orientation – much more so than relying on what you 'already know'.  Mentoring you in tapping this incredible potential is the focus of this session.
You will:
Slow your Mind
Tap In to the Dynamism of Your Intuition
Explore more Subtle Energy Attunement
Experience a Full Potential Meditation
Session 6 – Entering Into Mastery
As you begin to truly experience your intuition, vast new potentialities open to you.
In this session you will:
Develop 'Dual Awareness'
Explore 'What is Reality?'
Enter the Present Moment
Meet your Own Deeper Wisdom
Session 7 – Recognizing Your Self
Intuition leads us to live from a deeper place within ourselves.
In this session you will:
Distinguish your Ego and your Soul Self
Differentiate between Thought / Thinking and Intuition / Receiving
Comprehend even more deeply the True Purpose of The Mind
Review the Key Concepts you've discovered in this course
Have an opportunity to Ask Questions to Fully Integrate Yourself With Your Intuition
"Ariole K. Alei delivers.  She provides tools, scripts and exercises to get awesome results."

Michael Losier Best-selling Author, Law of Attraction, Victoria, Canada
Dip your toes in … or wet yourself completely!  This course offers you an opportunity to fully embrace your relationship with your intuition, shifting the foundation upon which you base your experiences of life.  No longer a tiresome spinning of uncertainty and confusion, now live a vibrancy of brilliant new inspirations and clarity!
"The truth and power in her words will move your mountain if you let them."

Craig Shearer Founder, Solar Freedom International, Saskatoon, Canada
Special course features
Be among a global community of like-hearted people who are actively expanding their potential via

tapping the incredible power of their intuition

Become a tangible model for others to emulate as you are gaining immeasurable benefits for yourself
Befriend the greatest personal ally you have
Leave suffering and floundering, confusion and wasted energy behind forever
"The time I have invested with Ariole has given me huge returns in the area of personal growth and relationship development.  She is tender, insightful, humorous, and a gifted teacher.  I am a better leader, mother and life partner as a result of my time with her."
Lesley Conway President, Hopewell Residential Communities Inc., Executive Leadership Client, Calgary, Canada
When and where
Anytime you choose! Simply Register, and begin! Explore this course in your own time, at your own pace! Receive rich support materials – Audio Recordings, 'Home Play' Inquires and Explorations, Quiz Questions …
From the comfort of your own chosen environment!
Regular Tuition $199

Recommended Reading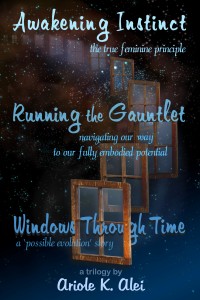 Chapter Four – Re-Sensitizing Intuition in the book The Ego and The Soul – Living and Leading From The Inside Out – A Map for Humanity's Ultimate Thrival and Awakening Instinct * Running the Gauntlet * Windows Through Time – A Trilogy – both by Ariole K. Alei
Upcoming – Stay Tuned!
Certification in Integrative Self Leadership ™
The Power of Intuition is one of the essential, core courses created by Ariole K. Alei.  Equally valuable as stand-alone 'a la carte' trainings, together these courses may become a Certification in Integrative Self Leadership ™.
How This Course Fits in Your Career Path …
No matter what you do for a 'living', you are impacting people every moment of every day.  How you live your life – internally and externally – is the most powerful statement you ever make.
As you fortify your relationship with your intuition, you become more fluid in your actions, more swift and sure in your decisions, more efficient in your engagement of energy, more confident in what you share and how you share it with others.
The Power of Intuition supports you to be profoundly more effective, clear, confident, creative, dynamic, inspired, empowered – in everything you do and are.
FAQ …
I am a wellness teacher / health care provider / healing practitioner.  How will this course benefit my practice?
Your confidence in tapping the incredible wisdom of your intuition will accelerate your clarity in making decisions – personal, professional, inter-personal.  It will give you access to a much more vast 'database' of insight and powerful ideas.  It will lead you to sources of 'research' beyond what was already familiar to you, opening you to clarity and confidence far greater than you may ever have known before.
This course will enhance your inner confidence and self-knowledge immeasurably.
You will be able to apply any of the concepts in this course directly in assisting your clients (subject to receiving your Certificate of Completion).  Please note that to actually teach the contents in this course, a further Certification would be required.  If this inspires you, please inquire for details.
Can I experience a sample of this course?
Yes.  See the 7-minute 'Video Taster' (on this page).  PLUS you can Register for the full 90-minute Session One as a 'Free Taster' preceding your Registration in this Online Course.
How long will it take me to complete this course?
The course itself is 7 90-minute Sessions.  Each session includes an 'Inquiry' plus an 'Experiential Practice' for you to explore outside of session times.  Each of these will inspire you to commit approximately ½ hour of reflection / exploration.
If I or my clients (if I am a health and healing practitioner) experience insomnia, depression, mood swings, worry, obsessive thinking, over-researching, indecisiveness, uncertainty, self-doubt … how will this course help me?
Tapping in to your intuition leads you to instant clarity.  The tools and processes that Ariole shares in this course will give you specific ways to lead yourself swiftly and consistently out of 'downward spirals' of confusion and second-guessing into upward soaring, inspiring states of freedom, inspiration, empowerment and optimal well-being.
How will I be able to use this information in my business or with others in my personal circles of contact?
Students and clients are consistently wowed by the value, depth and universal applicability of what Ariole shares.  The wisdom shared in this course will directly transform your personal outlook, uplift you to greater inspiration, hope and motivation, and entice you to evoke this brilliance in others.  Some of this wisdom you will find yourself naturally modeling as you integrate it.  This is always the richest way to share it!  Please note that if you wish to formally teach the content in this course, a Certification would be required.  If this inspires you, please inquire for details.
Will there be ongoing support after the course is completed?
Yes.  You will have access to the audio recordings of this LIVE original Tele Summit.  And of course, you are encouraged to choose your-next-most-inspiring-course from Ariole's integrative course offerings!
Which courses do you recommend are best for me to take next?
Any and all – whichever ignite your passion, curiosity, and appetite for self-discovery while learning!  All of the courses offered by Ariole are ideal complements to each other.  They are like succulent dishes on a vibrant smorgasbord of health and well-being. Together, they may ultimately create a Certification of Integrative Self Leadership ™.
Want to read More Testimonials?
Click here 🙂
Learn how you can tap the incredible power of your intuition!  Shift yourself UP out of confusion, worry, uncertainty, self-doubt, depression, boredom, 'smallness'.  Experience "the incredible lightness of being" as you ride the waves of inspiration, joy and confidence as you discover your pure power NOW!
Regular Tuition $199