There are many faces of anger.  Just like the Inuit who have some twenty-two words to describe the subtleties and nuances of what we call 'snow', there are many shades of anger.
Let's explore some of these – to unmask them, shifting us into power – our ability to navigate our way through them and into greater joy.
Frustration, irritation, edginess, resentment, passive aggressiveness, impatience, cynicism, sarcasm, pointed jokes, withdrawal, avoidance, undermining, resistance, failure to respond, tit-for-tat, vengence, hate, rage, attack, harmful thoughts, cruelty, booby-traps, criticism – these can all be forms of anger.
When we are not clean with our anger – articulating a clear boundary in response to it – we manipulate.  We undermine others with our misery.
Every time we fail to express our anger energy cleanly, we disempower ourselves.
When I blame …  When I complain …  When I'm impatient …  When I get frustrated …  These are all examples of allowing the anger energy to 'spin'.  Rather than expressing** it – allowing it to run through and out of me, cleaning and empowering me and delivering me to greater clarity and wisdom as it does so – I languish in my incapacity.  I 'shoot myself in the foot'.
I disempower myself.
** Expressing means to 'press forth from' – to release.  We assume that this necessarily means expressing 'to' someone – typically to that which has evoked our anger, or to someone whom we feel safe enough to express it to.
Expressing our anger doesn't need to mean this at all.  In fact, often when we express our anger 'to' someone, we dig it deeper.  We create a tangled mess.
So instead of evoking this deep and unnecessary pain and thus suffering, I suggest that you explore the series of '3' suggestions that I've outlined for you here in this book.
'3 Purposes of Anger', '3 Ways to Express Anger', '3 Ways to Move Anger Energy Constructively', '3 Ground Rules for Moving Anger', '3 Ways to Interface With Any Moment'.
Through practicing and becoming adept at these – making these your faithful friends – you will never need to 'confront' anyone angrily again; you will shift yourself out of anger UP – to a higher, lighter, and more delightful emotional experience inside of you; you will become free of the tyranny of hate, blame, and the incessant downward spiral into 'hell'.
You will become free.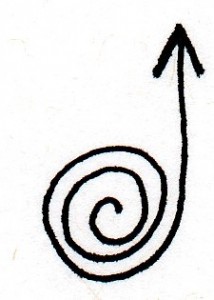 ____________
Every time
we fail to express
our anger energy cleanly,
we disempower ourselves.
____________
Listen to this post as a 'podcast'! The Faces of Anger recorded using the omni-dimensional 'Star Microphone' by Wehnersound.
____________
* This post is #60 in a series of in the syndicated excerpts from The Power of Anger – Blasting Through Your Limitations and Transforming The World by Ariole K. Alei. Order the book – or instantly download a copy – here. Or listen to the 4-Part Audio Course.
* Image with gratitude to The Power of Anger.