Experience HOPE Now!
Do You Sometimes Get Tired of 'Suffering'?
Does The 'News' Overwhelm You?
Do You Wonder
If Humanity Will Ever Stop Fighting?
Don't Think Another Thought
Until You've Read This At Least 3 Times 🙂
'H.O.P.E. = Healing Ourselves and Planet Earth' 

How Much Does Fear And Overwhelm Cost You?
Fear is like a dark cloud.  It chokes the life out of joy, hope and excitement.  Do you sometimes feel like you're drowning?
Where Are The True Leaders, The Compass, And The Map?
Most people – in fact the majority of the human race – have no clue where they're going.  They just wander day-to-day, reacting to what's immediately in front of them – which only exacerbates the crises and the pain.  They are lost.  Does it seem like every politician claims to have the answer but little ever changes?
The Most Important New Discovery In 2000 Years 🙂
Jesus, the Buddha, and all the great teachers spoke about how to end suffering.  The problem was, only an exceptional few were ready for the scope of transformation this would entail.
What If You Could Know 3 Simple Steps To Make Your Life Better?
All it takes is Clarity, Confidence, and a 'Map'.  Learn how to 'underwhelm your overwhelm'.  Discover how to take constructive action in your life and in the world – turning your fear, confusion, and despair into hope, health, and empowerment.
Start Living In Your True Joy, Vibrancy, And Peace
Is it worth 12 hours of your life to enhance your tranquility, vibrant health, and blissful relationships?  This 8 Session Tele Summit guides you out of despair and into empowerment.  'Wake up' to a whole new way of living – balance, clarity, hope, and JOY!
"To take one's suffering, work it through, then transform it into a powerful message of HOPE for us all, is truly remarkable.  This is precisely what Ariole K. Alei does in H.O.P.E. = Healing Ourselves and Planet Earth."
Ray Wehner MD FRCPC, Founder, WehnerSound Ltd.

Have You Heard Of Oprah + Eckhart + Deepak?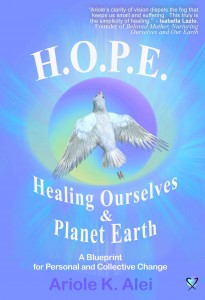 They're evidently onto something powerful and precious.  The 'information age' is dawning as the 'consciousness age'.  Eckhart Tolle's recent book A New Earth has been directly likened to H.O.P.E. = Healing Ourselves and Planet Earth – A Blueprint for Personal and Collective Change. 
Personal growth – an interest in mindfulness, healing, and planetary balance – is on the rise like a tidal wave around the world.  This isn't a cult, a church, or even an organization.  It is something that each and every one of us can participate in NOW – regardless of our religious views or ideological upbringing.
Be a part of this rapidly accelerating global movement of empowerment and 'waking up'.  Gain greater vantage for yourself – and an understanding of 'what the buzz is all about'.  Step into your empowerment and freedom today!  Here.  Now.
"BE The Change You Want To See In The World"
– Mahatma Gandhi
"Ariole K. Alei awakens us to our mission: to discover our true power and begin to do what we are meant to do – share our wisdom and assist Earth's passage into a new dimension.  H.O.P.E. = Healing Ourselves and Planet Earth is a wonderful roadmap for the journey!"
Valerie Joy Demerski Founder,By the Law of Attraction, Massachusetts, USA
H.O.P.E. = Healing Ourselves and Planet Earth
Based on the book H.O.P.E. = Healing Ourselves and Planet Earth – A Blueprint for Personal and Collective Change discover powerful, life-transforming tools to
Release yourself from suffering – physical, emotional, mental, and spiritual
Attain greater vantage of the 'quantum shifts' taking place in global society
Become confident in your ability to 'Be Present'
Contribute powerfully to the healing / well-being of the whole
"Be What You've Come Here For"*
Begin with 1 key reference point … You don't have to re-live suffering to heal it!
"Thank you for your complete devotion in helping me discover the power of who I am." – T.L.
H.O.P.E. = Healing Ourselves and Planet Earth
When …
Anytime you choose! Simply Register, and begin! Explore this course in your own time, at your own pace! Receive rich support materials – Audio Recordings, 'Home Play' Inquires and Explorations, Quiz Questions …

"Wonderful!  You are such an amazing gift to this world!"
Jan Rosgen Tele Summit Participant, Artist – book covers designer, Sointula, Canada
How is this course unique?
Traditional 'therapy' believes that we must re-awaken / remember 'the past' in order to heal and free ourselves of it.  This wisdom in this course presents to you the practical truth that we can lift ourselves out of suffering with simple tools, concepts, and processes that don't require reliving the pain.
Fast track yourself to clarity, relief, emotional and physical freedom – all the while becoming confident in your ability to "dissolve the past and learn how to digest your experiences in present-time so that you never again accrue a past".
As you empty out – eloquently and painlessly – your 'undigested past experiences' you a) experience "the incredible lightness of being" and b) become confident that when you are triggered again in the future, ultimately nothing will wobble you 🙂
This … is real freedom!
"Ariole is flat out brilliant.  High energy, high integrity, high quality communication.  She is a powerful, visionary leader.  Ariole thinks well outside mainstream boxes and helps people tap into universal truths that grant access to richness, depth, and clarity that so many people seek."
Aaron Chubb "H.O.P.E. Retreats" Core Team, Tele Summit Participant, Saskatoon, Canada
Course Faculty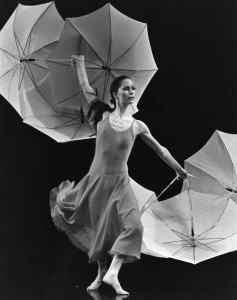 Ariole K. Alei has mapped profound routes to personal and inter-personal healing.  She has 'miraculously' healed a broken knee and hand to return to the performing stage nine months later, "stronger than ever before".  She has completely healed the effects of childhood sexual and ritual abuse.  She has constructively healed relationships that were torn by trauma.  Ariole has been recognized as a respected global visionary for over 20 years.  She is an executive life and leadership coach, author of eight books, speaker, facilitator, transformational process designer, tele summit leader, mentor, dancer, choreographer, yogini, and meditator.  She has met personally with His Holiness the Dalai Lama and other world leaders to discuss her visions of "A New Model of Exemplary Global Leadership".  Ariole participated in the UN Earth Summit in 1992, and subsequently has convened several international conferences.  She has co-founded two corporate consulting practices – "bringing spirit into the concrete world" – and two non-profit societies.  Ariole generously shares pragmatic and profound 'routes' to deeper insight, peace and awakening.  She lives in the Rocky Mountains of Canada.
Co-Learning
H.O.P.E. = Healing Ourselves and Planet Earth invites you into a unique opportunity for powerful, transformative discovery with your 'peer pioneers'.  In a community of like-minded individuals seeking to up-shift their lives, you will transform via your own personal insights and actions and through the 'updraft' of the group's collective discovery, vibrancy, and hope 🙂
Discover Your Personal Freedom
"Thank you for continuing to answer the call and guiding us through the thinning of this veil. These are vital times."
Satya Grove Teacher, "H.O.P.E. Retreat" Core Team, Vancouver, Canada
What You Will Gain
In this life-transforming course you will
Clean out the 'downward spiral' of your 'undigested past experience'
Propel yourself into greater clarity, freedom, expansion, and joy
Contribute powerfully to widespread benevolent change in human society
As a result you will
Gain tremendous peace of mind
Feel good about your ability to contribute positively to the world – by your sheer presence
Inspire others to increase their self-respect and experience hope
H.O.P.E. = Healing Ourselves and Planet Earth 8 Session Course is for
Anyone who feels trapped in the pain of their past
Everyone who yearns to contribute positively to the state of the world
Anyone who yearns for more peace, harmony, freedom, and well-being for all
Everyone who cares 🙂
"Ariole K. Alei's clarity of vision dispels the fog that keeps us small and suffering.  It supports us to stand in our rightful places on this wondrous earth.  We are all so interconnected and belong to each other.  Here is a woman who shines her light that we may all see clearly, taking our empowered places in the jigsaw of life – this beautiful world.  H.O.P.E. = Healing Ourselves and Planet Earth clearly illustrates how.  This truly is the simplicity of healing.  I 'hope' that many will pass through the door this book offers and find freedom and peace."
Isabella Lazlo Founder, Beloved Mother – Nurturing Ourselves and Our Earth, Devon, UK
Liberate Yourself from Suffering … Be In The Now
What is Included
8 90-minute Audio Sessions recorded during a Live International Tele Summit with Ariole K. Alei – now available Online for your learning-at-your-own-pace.  Each is full of insights and tools that will transform the foundation upon which your entire life is built
8 Dynamic 'Home Play' Explorations – including 'Inquiries' and 'Experiential Practices' – to actively deepen your ownership and integration of this powerful course content
Access to Recordings of All 8 Live Sessions – so you can re-listen as often as you like to what resonates most deeply within you, and what intrigues you most powerfully
And more!
"I want you to know the profound affect you have on my life.  I learn so much about who I'm not and who I really am in your presence.  And it's that presence I need to tell you about.  You live your life so clean and clear that the energy space that you radiate allows others to step into that cleanliness and clarity.  Thank you.  Deep peace to you."
Judith Walters "H.O.P.E. Retreat" Participant, Saskatoon, Canada

Course Curriculum
Session 1 – 'Underwhelming the Overwhelm'
We will begin this course by exploring an essential re-orientation that allows for ultimate liberation from suffering – ours, others, and the planet's.
In this session you will:
Comprehend the concept of 'Underwhelming the Overwhelm'
Open to the principles of Re-Sensitizing Yourself
Begin to Step Into Your True Power
Explore the '3 Inter-Related Ripples' – of healing ourselves, awakening to our relationship with humanity, and healing our relationship with / respect of the planet
Realize 'What Is Healing'
Session 2 – 'How Wounding Arises'
It is a profound awakening to realize 'How Wounding Arises'.  This paradigm of understanding allows for its ultimate healing and cessation.
In this session you will:
Recognize 'What Motivates Healing?'
Identify your personal – and humanity's collective – 'Consciousness Squeezes'
Understand 'How Wounding Arises'
Realize how it is possible for us to affect the wounding of others
Gain an initial overview of the 'Levels of Consciousness' and the liberating script of 'How Healing Works'
Experience the principle of 'Yielding' / non-absorption of others' toxicity
Session 3 – 'How Healing Works'
In this compelling session you will discover the principles of 'How Healing Works' – how to free yourself from the limitations of 'the past'.
In this session you will:
Understand 'How Healing Works'
Be introduced to and directly experience 'The Model of Healing – Revealing the Universal Principles'
Realize that 'Healing Does Not Require Re-Living the Wound'
Recognize 'The Goal – All of My Energy Present and Free To Move Forward'
Discover your true, free identity  –  'Who Am I Without the Wound?'
Session 4 – 'Letting Your Healthy Self Lead'
Leaving the pendulum swings of pain and pleasure behind, in this session you will gain 'leverage', beginning to truly experience "the incredible lightness of being".
In this session you will:
Step Up to a Higher Perspective
Let Your Healthy Self Lead
Learn how to detect 'Quasi Yeses' and thus Shift into Your Authentic Power
Realize the Purpose of Emotions
Discover how to Up-Shift yourself emotionally at will
Recognize the Pure Power of Anger
Unmask 'Codependence'
'Shift Your Mobile' – allowing small changes to affect big results
Session 5 – 'Letting Go'
In this session we de-bunk the fear of death, allowing the change that is both required for and results from 'healing'.
In this session you will:
Experience a Turning Point – beginning to truly live in 'The Present'
Shift your Beliefs as you realize that 'There's Nothing Wrong With Dying'
Discover the remarkable effects of multi-level 'Cleansing'
Distinguish between Emotional Healing and Physical Dying
Recognize the '5 Stages of Grieving'
Learn how to create a 'Vacuum'
Become relaxed in 'Letting Go'
Session 6 – 'Why Healing Is Vital Now'
Context allows for easy comprehension – on both micro and macro levels.
In this session you will:
Realize 'Why Healing Is So Vital Now' – personally, collectively, and planetarily
Perceive a Vision of 'Individual and Collective Suffering – Coming To Its End'
Comprehend the essence of the 'Polar Shift' that humanity is in the midst of achieving
Learn a profound process for 'Lifting Your Ego (fear-self) into Your Soul (Expansive Love-Self)'
Recognize the connection between 'Healing' and 'Cleansing'
Discover the Power of 'Asking Questions'
Session 7 – 'The Solution – Applying Our Brilliance to a Larger World View'
Liberty arises from understanding and congruent action.
In this session you will:
Compassionately recognize 'The Addictive Impulse / Becoming Numb'
Realize the solution – 'Applying Our Brilliance to a Larger World View'
Recognize 'The Power Of The Will' – and un-mask the misnomer of 'Free Will'
Envision Healthy Interactions – With Self, Other, Environment
Comprehend 'What Consciousness Is'
Become Passionate about 'Re-Sensitizing to Our World' – without overwhelm!
Re-Awaken your Ability to Vision
Grasp simple Quantum Physics Principles that allow you to easily understand 'Critical Mass', 'Tipping Points', and 'Quantum Shifts'
Begin to realize 'Who Am I?  Why Am I Here?'
Gain tools to effectively 'Underwhelm the Overwhelm'
Session 8 – 'Putting Clarity Into Action'
Behavior is a 'visible printout' of inner thinking.  Change results from action based on an up-shift in ideas.
In this session you will:
Put Consciousness Into Action – Evolving the Way You Think
Identify past planetary 'Paradigm Shifts' – and poise yourself for the one we are in the midst of achieving
Conceptualize 'Homo … What?' – the new version of humanity 🙂
Learn to identify where best to 'De-Invest / Invest / Re-Invest' your precious focus and energy
Explore '7 Focus Areas for Visionary Consciousness In Action'
Comprehend what 'Critical Mass' actually is
"Be the change you want to see in the world" – Mahatma Gandhi … Take stock of how you 'fit'
Impassion Yourself with your New Vantages, Concepts, and Tools!
Realize that 'It's Not What We Have – It's What We Do With It' that matters
"A must-read.  In the same vein as Eckhart Tolle's A New Earth: Awakening to Your Life's Purpose, this powerful book could not have been released at a better time given the current state of our planet Earth.  This groundbreaking book offers profound insights as to how we can heal our wounds in order to help heal the world.  So much food for thought.  In H.O.P.E. = Healing Ourselves and Planet Earth, author Ariole K. Alei gives us practical tools to help assist us on this journey offering us tangible solutions and direction for the future.  This courageous author candidly shares many deeply personal examples of her own experiences which in turn help us through the process of healing ourselves.  Many of us feel as though we can't make a difference on our own.  But we can, and we are shown in this book what is happening in the world and how we can help make significant changes simply by making a shift in our consciousness and in our actions in order to experience a sustainable future. H.O.P.E.will empower people and aid us all in recognizing the value and significance of our personal actions."
Jodi Smith Arts Publicist, JLS Entertainment, Executive Leadership Client, Meditation and Yoga Student, Vancouver, Canada
This course offers you an opportunity to shift the very foundation upon which your primary experiences of life are based.  No longer struggle, suffering or fear, instead now real freedom and vibrant possibilities of hope.
"This is so incredibly liberating.  Thank you for your presence with this process." – W.L.
"This is a book whose time has come.  If you have ever had a knowing about the truth in your life but have been unable to articulate it, H.O.P.E. = Healing Ourselves and Planet Earth is right for you.  Poetic, written with a descriptive lilt that feels like story time, Ariole K. Alei is masterful at articulating what you already know but may have temporarily forgotten. Ariole's expertly described insights about the human condition are written with vision and courage.  If you value human liberation including your own, reading this work will serve you a plate of 'soul' food that will have you looking at the desert menu for the rest of your life.  The truth and power in these words will move your mountain if you let them."
Craig Shearer Founder, Solar Freedom International and Author, Stick it Where the Sun Shines, Saskatoon, Canada
Special course features
This Online Course is based on the book H.O.P.E. = Healing Ourselves and Planet Earth
Learn how to truly free yourself from pain and suffering – on any level
Become a tangible model for others to emulate while gaining immense benefits for yourself
Leave pain, fear and self-doubt behind forever
"The time I have invested with Ariole has given me huge returns in the area of personal growth and relationship development.  She is tender, insightful, humorous, and a gifted teacher.  I am a better leader, mother and life partner as a result of my time with her."
Lesley Conway President, Hopewell Residential Communities Inc., Executive Leadership Client, Calgary, Canada
When and where
Anytime you choose! Simply Register, and begin! Explore this course in your own time, at your own pace! Receive rich support materials – Audio Recordings, 'Home Play' Inquires and Explorations, Quiz Questions …
From the comfort of your own chosen environment!
Recommended Reading
Upcoming – Stay Tuned!
Certification in Integrative Self Leadership ™
H.O.P.E. = Healing Ourselves and Planet Earth is a core course in Ariole's 'curriculum' of profoundly life-changing teachings.  Equally valuable as stand-alone 'a la carte' trainings, together they may become a Certification in Integrative Self Leadership ™.
How This Course Fits in Your Career Path …
Until we are absolutely clear, we are essentially 'filters' through which information passes into the world beyond us.  In any given moment these filters are predominantly of fear (downward spiraling) or love (upward spiraling).  The ripple effect of our 'invisible outpouring' is more powerful than most of us imagine.
No matter what you do for a 'living', you are impacting people every moment of every day.  This course will assist you in taking a quantum leap in becoming 'clear' – unburdened by hidden determinants of your past.
The result will be more powerful, benevolent effectiveness in everything you do – and all that you are.
As you apply the essential principles, insights, and tools presented in this course, you will experience a deepening of peace, a growing confidence in yourself, an expansion of your clarity, and a bright ray of hope. 

FAQ …
I am a wellness teacher / healthcare provider / healing practitioner.  How will this course benefit my practice?
Everyone attracts life experiences based upon what is undigested in their past.  Until we are 'clear', we magnetize experiences to us that invite us to become more whole.  'I Wish This Was Taught In Kindergarten'™!
As you apply the concepts and tools you will learn in this course, you will become clearer – internally and externally.  As a result you will attract more of what you want – and ultimately fulfill your dreams.
You will become more effective in your practice, as there will be less 'clutter' – subtle and obvious – between you and the optimal fulfillment of your work.
Through participation in this course you will experience greater harmony, clarity, peace, and richness throughout your life.
You will be able to apply any of the concepts you learn in this course directly in assisting your clients.  Please note that to actually teach the contents in this course, a Certification would be required.  If this inspires you, please inquire for details.
Can I experience a sample of this course?
Yes.  Both a 7-minute 'Video Taster' PLUS a full 90-minute 'Session One Taster' are available to you preceding your Registration in this Online Course.
How long will it take me to complete this course?
The course itself is 8 90-minute Sessions.  Each session includes an 'Inquiry' plus a 'Practice' for you to explore outside of session times.  Each of these will inspire you to commit approximately ½ hour of reflection / experiential exploration.
If I or my clients (if I am a health and healing practitioner) experience depression, confusion, anxiety, overwhelm, addictions, paranoia, fear, paralysis, PTSD, OCD, ADHD, … how will this course help me?
Freeing yourself from the continuous ravages of 'undigested past experiences' brings freedom on all levels.  Without requiring you to 're-live the trauma' – be it events or perpetual stressors – you can experience "the incredible lightness of being" more and more each day 🙂
As we become more 'present' – less invisibly controlled by our hidden past – we become more resilient, joyous, generous, hopeful.
Learn how to swiftly, consistently shift out of 'downward spirals' into upward soaring, deeply integrated states of inspiration, freedom, and joyous well-being.
How will I be able to use this information in my business or with others in my personal circles of contact?
Peace and contentment, freedom and hope are contagious.  Your state of well-being will directly affect everyone around you.
Students and clients are consistently wowed by the value, depth, and universal applicability of what Ariole shares.  This wisdom will directly transform your personal experiences, uplift you to greater inspiration and hope, and entice you to evoke this freedom in others.  Some of this wisdom you will find yourself naturally modeling as you integrate it.  This is always the richest way to teach!  Other wisdom you may consciously choose to share with clients, colleagues, family, and friends with an intention of supporting their upliftment into optimal wellbeing.  Please note that to actually teach the contents in this course, a Certification would be required.  If this inspires you, please inquire for details.
Will there be ongoing support after the course is completed?
Yes.  You will have access to the audio recordings of this LIVE, original Tele Summit.  And of course, you are encouraged to choose your-next-most-inspiring-course from Ariole's integrative course offerings!
Which courses do you recommend are best for me to take next?
Any and all – whichever ignite your passion, curiosity, and appetite for self-discovery while learning!  All of the courses offered by Ariole are ideal complements to each other.  They are like succulent dishes on a vibrant smorgasbord of health and well-being. Together, they may ultimately create a Certification of Integrative Self Leadership ™.
Want to read More Testimonials?
Click here 🙂
Learn how to tap the pure Power Of Your Mind to experience abundant flow in your life! 
Experience "the incredible lightness of freedom" NOW!
* Sting's lyrics from "History Will Teach Us Nothing"