Witness a Miracle
Experience a Transformation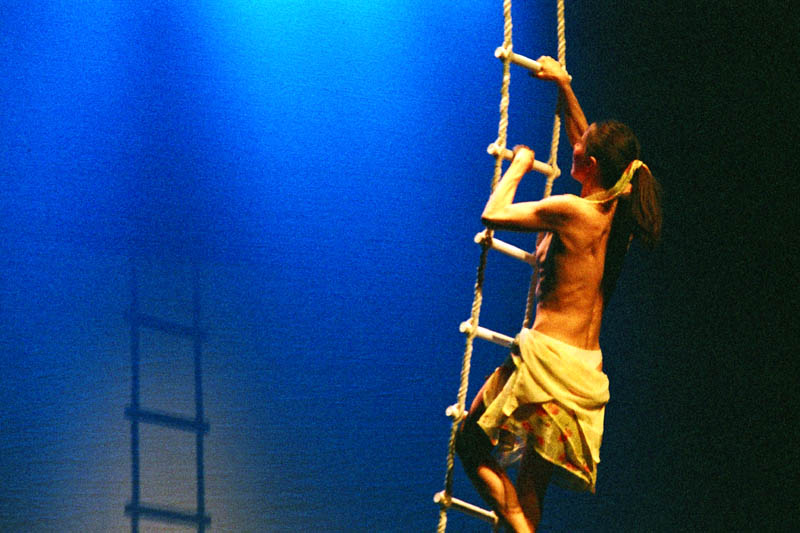 Ariole will be celebrating her 'third miracle' in dance with her 25th Anniversary of solo touring this summer at the Edmonton Fringe Festival.  She will perform a NEW and magnetizing production of "there's a camel on my back" – a performance that has received "must see", "not to be missed", "hot show" rave reviews and sold-out houses …
Stay tuned for details!
 The Birth of A Dancer
Ariole began dancing at the age of seven, swiftly discovering the mentorship of Carolyn Tetrault and the Nenad Lohtka School of Dance.  By elementary school she was independently taking an hour bus ride each way, several times weekly to train with the Royal Winnipeg Ballet.  Each year her passion and commitment grew.  Upon honours graduation from high school, she began full-time training and graduated from the Royal Winnipeg Ballet Professional Division, dancing solo and duet roles in works by Peggy Baker and Sandra Neels.
Ariole studied on scholarship at The Banff Centre, School of Fine Arts and at Jacob's Pillow Dance Festival where she was the first chosen in Igal Perry's Festival commission.
Fortunate to have her passion met with a career opportunity, she auditioned throughout the USA for classical ballet companies, eagerly encouraged by her colleagues at Jacob's Pillow.  Her first contract was to be in her birth city of Vancouver, Canada, from which she toured internationally for three years with the Anna Wyman Dance Theatre.  The 'Umbrella Solo' from "City Piece" was created for Ariole and performed in a Gala alongside National Ballet of Canada Principals Karen Kain and Veronica Tennant.
Keen for new challenges, she then toured internationally with the Judith Marcuse Dance Company performing works by Ohad Naharin, Ginette Lauren, Mark Morris and others.  Ariole was one of three dancers chosen for a trio created by Judith Marcuse for an award winning CBC 'The Journal' documentary on AIDS.
A so-called 'accident' in which her knee and hand broke was the catalyst for a quantum leap.  Ariole completely healed and nine months later bounded over the company scene to tour solo – one of three Canadians doing so at the time.  "there's a camel on my back" was likely the first dance production ever to be presented in the Fringe Festival circuit.
Ariole's inner guidance – the visions and voices that led her to create this first 'miracle' of healing, including literally seeing dances, costumes, lighting grids, and tour details in her meditations – also directed her to 'take dance to non-dance audiences'.  Her inaugural solo tour was met with rave reviews and sold-out houses.
Following the success of this tour, she visited her Sports Med specialist and asked, "Dr. Doug, what was the medical prognosis?"  He replied with a jubilant accomplice's grin, "You weren't supposed to walk again without a limp!"
Following this tour – "the most challenging and rewarding experience of her life" – that same inner voice urged her to "let go dance".  A vision she had had when she was ten of writing a manuscript in a log cabin in the woods came to fruition in autumn 1990, just months after the completion of this first tour.
Shortly thereafter Ariole participated in the UN Earth Summit in Rio de Janeiro, Brazil.  Returning home to Vancouver, she was surprised that none of the typical leaders were convening a 'Post Earth Summit Conference' – and so she realized that this was her role.  Every morning upon waking for a week,  she saw visions of the 'model' around which this conference was to be designed.  She invited a First Nations Elder to hold space with her, and she began.  She jokingly tells the story that, "At the lunch break, half of the people stormed out, saying 'This isn't a conference', as there was no podium, no hierarchy of speakers.  Everyone's wisdom was tapped and respected.  And the other half pleaded, 'Please don't tell us this is only one day'!"  And so ViA Vision Into Action Society was born, initiating public events that leap-frogged people over their previously limiting beliefs that they aren't creative.  Active Visioning of positive futures and strategies ensued 🙂
Within a year her inner voice urged her to "go global" – that the same energy affected on a local and a regional level could create far more leverage 'globally'.
By spring of 1994 she had courageously left her belongings and roots to follow Spirit's call 'over the pond'.  She convened an international Conference of inter-disciplinary leaders outside of London, England.  By autumn of 1995 she was in India with a small team of colleagues meeting with Tibetan Rinpoches and advisors to His Holiness, all of whom were vetting the Visions she was seeing of benevolent planetary transformation.  Through a series of courageous steps she was welcomed by His Holiness the Dalai Lama in two private audiences, granting His support in the fulfillment of 'the Visions'.
Two of these Tibetan Rinpoches accompanied Ariole from India to the UK to hold space for meetings with several cultural leaders.
At this point the 'global project' she has been dedicated to since 1988 went into 'gestation' (in a sense!) and she began to be called to facilitate.  A rapid succession of "Dancing Into Ecstasy, Dancing From Within" workshops ensued, met by full-to-the-brim participation.  "Dancing Into God – A Tantric Reawakening", then "Psychic Awareness" workshops, then into her first retreats.  Without even naming or advertising, her inaugural retreat was filled within days.  A second was added.  A few weeks later, Spirit called her (she truly does listen to her Intuition in everything!) to invite people to sit with her in 'spontaneous meditation' over the course of one weekend during which she would share the essence of the Visions she had received thus far.  In her innocence she agreed. Twenty-eight people attended, and became the self-named 'AT Group' with whom she worked intensively for two years, mapping states of consciousness and paving the way for later stages of the 'global project'.
Several more manuscripts scribed (these early manuscripts have not yet been published), and it was time for deep integration of the rich years since her initial solo tour in 1989.  She returned to Vancouver and co-founded ViA Vision Into Action Consultants, assisting executive teams in clarifying their Vision, Mission, and Core Values and custom-designing in-house Wellness Programs.  Here she began 'translating' the profound insights she has been gaining throughout her life into 'digestible, pragmatic tools and conceptual teachings' for the world-at-large.  It was during this stage that she began teaching Meditation in corporate and private settings.
A rapid learner and integrator, within three years Ariole was ready for her next stretch.  After a 14-year 'temporary retirement' she returned to the solo stage, at the age of forty.  In this interim period she hadn't danced at all.  It was / is her daily Yoga practice (since the age of fourteen), Meditation / inner guidance, and trusting that same voice that, when it urged her to "Let go dance" also said "You will dance again, stronger than ever before … And you will know when, and where, and why".
Ariole solo dance toured from 2003-05, still recognized by her birth name of Sharon Elise Wehner.  Her second run of full-evening solo performances (the first had been a televised extended version of her 1989 solo touring programme), was presented at the Waterfront Theatre in Vancouver, titled "Ascend".
Another 'temporary retirement' began when she was cued to write books – to essentially empty out the wisdom she was carrying to make room for more.  Birds' Eye View – A Travel Guide to the Universe, Awakening Instinct * Running the Gauntlet * Windows Through Time – A Trilogy, and HeartSong – Conversations About Love, Joy and Sex – Discover The Secret of a Truly Fulfilling Love Relationship (co-authored with Colin Hillstrom) were born.  It was at this turning point that her name changed to Ariole Kesari Alei.
Another corporate consulting practice was born – Veraxis ('truthfulness' in Latin) Coaching and Training.  Working primarily with Executives in Life and Leadership Coaching and process facilitation, Ariole created a 'virtual' practice that allowed her to move to a more nature-tranquil setting.  She now lives in the Rocky Mountains of Canada, in a wildlife corridor!
The 'global project' has been entering 'gestation and activation' phases at intervals since 1988.  When in 'gestation' Ariole is more active in her visible worldly service.  When in 'activation' she is in potent and as-yet-less-public 'research and development' work with a cluster of international colleagues.  2012 was a very potent 'activation' phase.
Since October 2012, for the first time these 'activation and gestation phases' have begun to merge.  More visible in the world since the late 80's, and still deeply immersed in the 'R&D' preparations for the announcement of this project, Ariole is thrilled to dance again.
In early 2012 she began reconditioning her body for dance, participated in Master Classes with 17- and 18-year old spitfires from ballet companies across Canada in the Dance Masters program at The Banff Centre, and began reconstructing 14- of her 20-something solos repertoire.  Ultimately anticipating to be a 3-act, full-evening 'arc' of 14 solos titled "Ascend", Ariole is currently in the studio several times a week joyously immersing herself in the depth and deliciousness of these solos.
Each time Spirit calls her, she trusts.  Be it founding a corporate consulting practice, meeting Rinpoches and world leaders, convening conferences, or dancing again after 14- and 9-year 'temporary retirements', Ariole knows that if Spirit asks, she can.
Simultaneously re-launching 5 Tele Courses that she designed and led based on her books in 2007 that are now being re-recorded Live for Online access, launching 3 Meditation Courses and 1 'What's Next?' course for retiring Olympic athletes, coaching and mentoring executives in their 'Life and Leadership' – Ariole is in the studio rehearsing for her upcoming 25th Anniversary of Solo Touring in August 2014.
She is unspeakably grateful for the gift and the opportunity of inspiring and uplifting humanity through dance …