Boundaries are the mechanisms via which we protect and enhance our integrity.
It is easy for us to comprehend physical boundaries.  We understand and we accept that fences are erected to keep dogs out of gardens and children in safe playgrounds.
Longitudinal and latitudinal check points are maintained at roads and at ports to defend countries and to maintain their perceived sovereignty.  We keep liquids that are poisonous locked away from liquids that we ingest.
Physical boundaries can be a fence, a stop sign, a wall, a locked cabinet, a danger signal.  Physical boundaries suggest that danger will be experienced if these boundaries are crossed.
Most of the boundaries we create – those we need for our congruence, our empowerment, and our safety – are not physical at all.  They are the ways in which we hold our bodies, the glances of our eyes, the tones of our voices.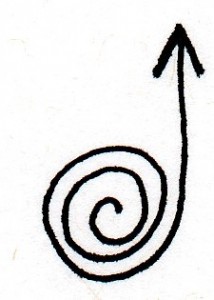 ____________
Healthy boundaries arise from
the level of our instinct.
They are our
deeper wisdom's way
of telling us
what it is
that we need to do
or to say
in order to preserve
our well-being.
____________
Listen to this post as a 'podcast'! What Are Boundaries_ – Part One recorded using the omni-dimensional 'Star Microphone' by Wehnersound.
____________
* This post is #58 in a series of in the syndicated excerpts from The Power of Anger – Blasting Through Your Limitations and Transforming The World by Ariole K. Alei. Order the book – or instantly download a copy – here. Or listen to the 4-Part Audio Course.
* Image with gratitude to The Power of Anger.