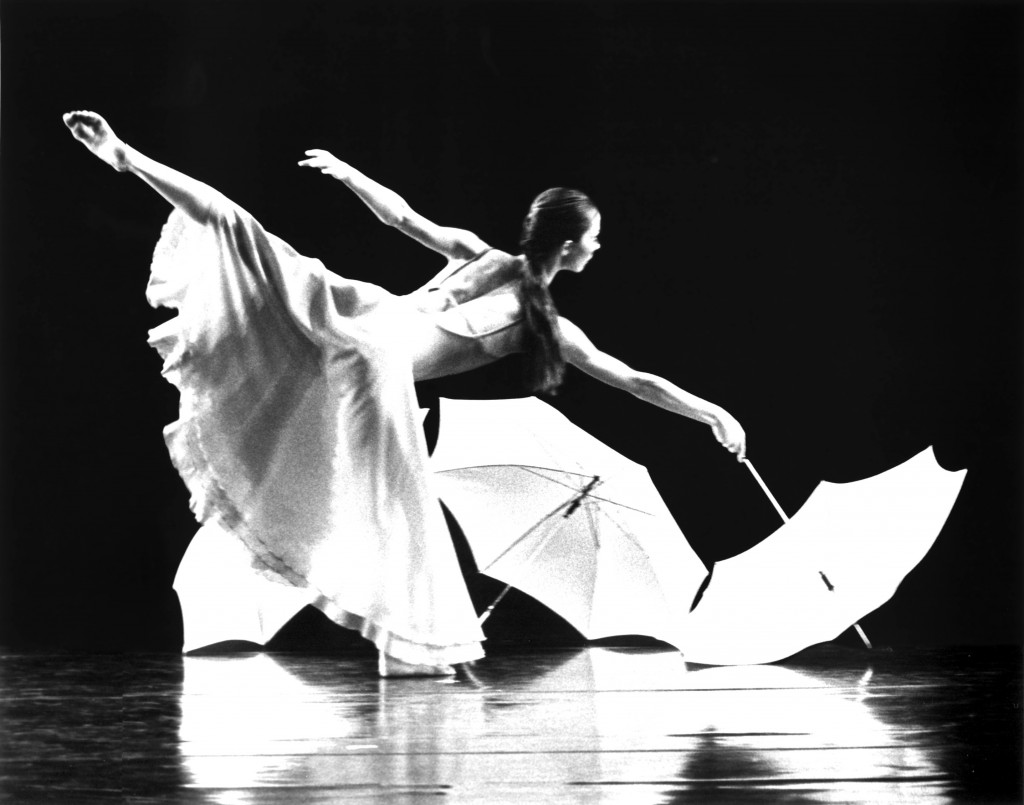 Ariole Alei Dance
'there's a camel on my back'
"Easily one of the most alluring performances of the year." – Monday Magazine
"Brilliant … a master." – The Georgia Straight
'there's a camel on my back' was first presented as a 5 solo programme in 1 act during the Winnipeg, Vancouver, and Victoria Fringe Festivals in 1989.  Met by rave reviews, "must see", "hot show", "not to be missed" buzzes and sold-out houses, it was likely the first ever dance production to be presented in the Fringe 'theatre' Festival circuit.
Receiving masterful mentorship in the presence of Artistic Director Arnold Spohr during her many years of training in the Professional Division of the Royal Winnipeg Ballet, Ariole innately learned how to create an 'arc' – a transformational journey of discovery and up-liftment for her audience.
As a young girl lingering in the theatre, mesmerized after seeing contemporary ballets by world-class choreographers and awe-inspiring dancers, Ariole instinctively knew that her role as a 'dancer' is like an adult loon to its babies.  Respectfully she picks each person in the audience up and carries them on her 'back' through territory of emotional liberation and spiritual inspiration that they are often not easily adept at accessing themselves.  Soaring through arcs of sometimes epic proportions, she gently sets each person down at performance end, integrated enough to make their way into 'the world' … yet somehow changed and renewed …
During the 1989 debut tour of 'there's a camel on my back', audiences often lingered post-performance in silence and stillness, clearly not wanting to leave the awe-inspiring ambience and re-enter 'the world'.  At some points in the performances the audience was so quiet, "you could hear a pin drop".
~
The 2014 tour of 'there's a camel on my back' celebrates Ariole's 25th Anniversary of solo touring.  The first tour in 1989 was followed by a 14-year 'temporary retirement'.  The second tour in 2003-05 was followed by a 9-year 'temporary retirement'.  In summer 2012 Ariole began reconstructing 14 of the 20-some solos in her repertoire.
'there's a camel on my back' 2014 is a new production including 4 of the original solos, 1 created in 2003-05, and 1 created in 1986 for Ariole by Anna Wyman.   Timeless pieces of enigmatic beauty, these 6 solos transport the audience into realms of liberation and inspiration rare to experience.
This production includes the unique attributes of
Visible-to-the-audience discreet costume changes, offering a 'voyeur view' of the 'inner workings' of the dancer's transitions
Artist's voice-overs sharing insights into the 'artistic process'
'Audience Talkback' following the performance – an intimate opportunity for questions, sharing, and celebrating the depth of the audiences' experiences
For tickets and information,

click

…
Performance Dates and Times …
Friday, August 15 @ 7 pm
Sunday, August 17 @ 6:30 pm
Wednesday, August 20 @ 11:30 pm (!)
Thursday, August 21 @ 2:15 pm
Friday, August 22 @ 12:15 pm
Sunday, August 24 @ 8 pm
Running time is 75 minutes …
Venue …
Westbury Theater, 10330 – 84th Avenue, Edmonton, AB, Canada
Courses to Support the Easy Integration of Your Experience . . .
If your emotions have been stirred by what you have seen, heard, and felt in 'there's a camel on your back' . . . and you would like supportive tools to address these emotions and insights . . . please consider visiting The Power of Anger  and  Soul Mates – as well as 30 Day Meditation Oasis (hosted at BodyMind Institute) plus H.O.P.E. = Healing Ourselves and Planet Earth, The Power of Intuition, Be The Wave Of Change, and Abundance In Action – aka 'How to Get Out Of Your Own Way'! (hosted here at URLight) . . .
These Online Audio Courses – based on my Books – are specifically designed to assist you in benefitting most directly from the 'wake' of liberation that 'i' demonstrate . . .
With love 🙂 'ariole'
Bonus …
Confirmed!  Ariole will show a 'sneak preview' of Acts I and III of 'Ascend' (ten solos – essentially those in 'Ascend' that are not in 'camel' – plus 'Dragon Fly' and 'Umbrella Solo') …
Space is limited to 25 people . . .
When? 12:30 pm 'noon' on Saturday, August 23 at Mile Zero Dance studio – 9533 Jasper Avenue NW (at the corner of 102 Avenue NW and 95 Street NW) – relatively near to the Festival site 🙂
What to Bring? A pillow if you prefer to be a floor sitter . . . Your exquisite stillness and presence . . .
It Is Vital That You Arrive On Time as latecomers will sadly naught be welcome 🙁 . . . Please arrive up to 10 minutes early to settle in . . .
Running Time is approximately 90 minutes + an opportunity to relax in discourse afterword . . .
This will be a 'by donation' rare opportunity to experience the power of these solos in the intimacy of the studio 🙂
With loving tenderness and 'pure power' . . .
🙂 i am 'ariole'
Programme
Choreographer, Lighting Designer, Costume Designer and Performer – Ariole K. Alei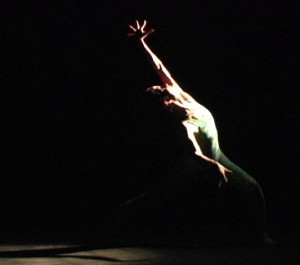 "Dragon Fly"
Music – Pat Metheny "Oasis"
Original Costume – Eva Christiansen*
Premiere – July 1989
A voyeur view of a dragonfly beetle shedding its skin.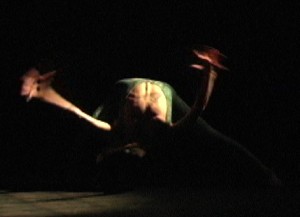 "Romp? (or Act IV, Scene V, The Final Breath)"
Music – Beethoven's Sonata No. 8 in C minor
Costume based on Original Design by Janet McNulty*
Premiere – September 1989
A comic 'romp' through the final death scenes of Grand Opera, with a touch of the 'mad'ness of Grand Ballet thrown in.  Absolute silliness, a 'psychological thriller'.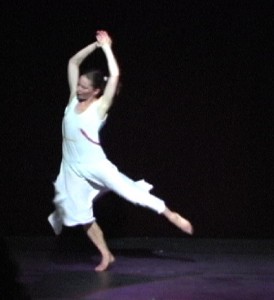 "The Times After"
Music – A.D. Perry (Toni Stanick, violin; A.D. Perry, piano)
Premiere – May 1988
"The Times After" first came to me as a vision at night.  It persisted.  It wouldn't let me rest until I had listened to it, honoured it, and 'created' it.  A prayer for the end of sexual and physical abuse and domestic violence, "The Times After" was the first solo dance 'I' created.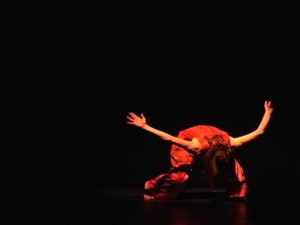 "Back from the Edge"
Music – Andreas Vollenweider "Drown In Pale Light" and "The Secret, The Candle, And Love"
Costume based on Original Design by Janet McNulty*
Premiere – July 1989
Inspired by my recovery from a fractured knee, "Back from the Edge" is a dance of sheer joy and deep appreciation, a celebration of life.  It is dedicated to the will to thrive which lives in all of us.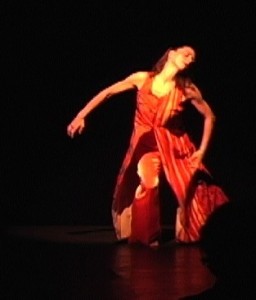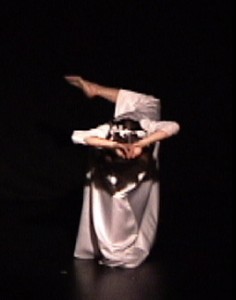 "The Passage"
Music – Howard Goodall "She Moved Through The Fair" (traditional Irish song)
Premiere – September 2003
A young maiden on the eve of her rite of passage – her wedding.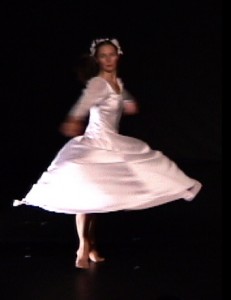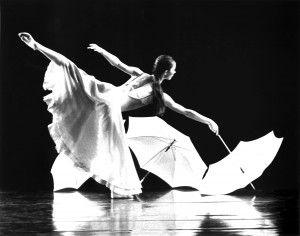 "Umbrella Solo from City Piece"
Choreography – Anna Wyman*
Music – Edgar Froese
Original Costume – Mary Galbraith*
Premiere – 1985
Created for me by Anna Wyman, Artistic Director of the Anna Wyman Dance Theatre, with whom I toured internationally in 1983-86.  This solo is an excerpt from a full evening ensemble production entitled "City Piece".  My passionate exploration within it is the limitless soaring of the uplifting effects of air and wind.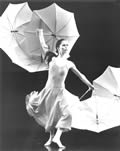 * Choreography or Costume Design by artists specified.
** The Audio Voice-Overs heard during costume changes in 'there's a camel on my back' have been recorded using a state-of-the-art omni-dimensional microphone, a singular prototype of which has been gifted personally to His Holiness the Dalai Lama in 1995 . . .