A compelling call to compassionate, awakened action – akin to Marianne Williamson's speech for Nelson Mandela first published in A Return to Love
 – is Awakening Instinct * Running the Gauntlet * Windows Through Time – A Trilogy.
             A 'bath for the brain', this collection of three astute, inter-woven writings opens the human mind far beyond the reaches of analytical thinking.  Inspired by processes of deep intuition, this trilogy awakens us to the spirit within and the great mystery without, rekindling our memory of the 'puzzle' of which we are all a part.
             Keep watching for excerpts from this inspiring book … Including 'Brazil' – Hunger Strikes, Rallies, and Effecting Change.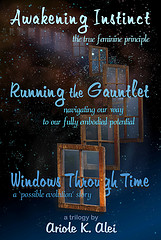 "Awakening Instinct" is a treatise on the vital need for humans to de-fossilize our latent powers – our 'Barometers of Time', lamps with which to light our path.  "Running the Gauntlet" opens our hearts wide to experiencing our full potential and recognizing the 'gauntlet' we must run to fully embody it.  "Windows Through Time" leaps into the unknown like a Vision Quest
, bringing back great riches of conscious understanding.  In its gentle yet remarkable journey it makes the nameless, uncharted universe tangible and accessible.  This is a powerful, marvelously written, life-changing read.
Listen to a Free Audio Course Intro
Buy the 7 Session Audio Course
Taste what you will gain as you read these mini excerpts!
             "I speak of instinct and intuition as feminine principles because they require receptivity to be heard.  All men and all women have both the feminine and masculine principles within them. …   There is a 'bridge', a teeter totter moment when we either take seriously, respect and honor, and commit to heed the message of our instinct / intuition … or it is the moment when we deny our inner wisdom and sacrifice our self.  [Then] we are always sacrificing the life of the system too." 
– from Awakening Instinct – the true feminine principle
             "Vedic mystics speak of human de-volution
– that we are essentially spiritual beings having devolved or 'stepped down' from the Gods.  Darwinian contemporary science promotes the idea of human evolution – that we have evolved or 'stepped up' from simpler, purely biological life forms. …   Who are we?  What is a hu-man?  What happens when we allow 'God' to speak through us, as if this conversation is the most 'normal' occurrence in the world? …   Living our full potential is about waking up, becoming conscious of our abilities, our purpose, our path.  Humble.  And reverent for all life.  It is through stillness that we begin to remember who we really are.   Our full potential is always here.  It is our awareness of it – and our longing to become it  – which so often becomes obscured."
– from Running the Gauntlet – Navigating Our Way to our Fully Embodied Potential
              "Time is coming to an end.  And yet there is nothing to fear.  We are nearing the completion of a journey, which began billions of years ago, at the beginning of Time.  There is life before Time.  And beyond.  This is not science fiction.  It is truth. …   When I met 'God' one thing startled and surprised me.  First of all, I had never expected or even consciously desired to 'meet' God …  But it all seemed quite normal, in an odd sort of way, when I found myself kidnapped into seclusion to reconnect again with four of the nearest tiers of god energy.  What surprised me …  was that 'God' seemed to me to be so sad.  I asked Shakespeare's soul, another guide, "Why is God so sad?", for I was aware of a most forlorn, painful mourning, and he said, "Lille One.  You will know, in Time."  Months later, and my journey more familiar, it was all explained."
– from Windows Through Time – a 'possible evolution' story
"Ariole's clarity of vision dispels the fog that keeps us small and suffering.  This truly is the simplicity of healing."  – Isabella Lazlo, Founder of Beloved Mother, Nurturing Ourselves and Our Earth
Questions to Ponder:  Are you comfortable following your Intuition?  If not, what blocks you from feeling safe to follow and explore it?  What are the gauntlets that you must navigate through to reach your full potential?  Have you had direct experience speaking with or sensing 'God'?  What was / is this experience like?
Want personal support in exploring these deep and vital questions?
* Book cover by janrosgen.com