* This popular post is excerpted from Awakening Instinct * Running the Gauntlet * Windows Through Time – A Trilogy by Ariole K. Alei.
I participated in the United Nations Earth Summit's parallel conference – the Global Forum – in Rio de Janeiro in June 1992.  It was a 10-day gathering of over 180 heads of state, plus media, aides, and non-governmental leaders.  And concerned citizens like myself.
One day I participated in a local rally.  Thousands of Brazilians flocked to the streets, in their style of public demonstration.  There were platform trucks on which leaders stood with megaphones, guiding the crowds in chants of protest.
I walked with them, because I believed in their cause.
At one point I began to notice the drone … of … military helicopters, circling low above the crowds which now snaked street-wide for blocks and blocks.
The thought crossed my mind that my parents might be terrified if they knew where I was and precisely what I was doing.  And yet … I was simply walking.  Marching in protest with other human beings to state a concern and support a cause.
A few days later I was back in Vancouver, my home city.  A colleague of mine had planned a hunger strike in front of a politician's office in protest of the logging of old growth forests, a cause which was a hot topic in the media then.  I had agreed to support him.
It was a four day hunger strike.  I joined him in fasting for the full four days.  And I physically sat with him on the sidewalk outside of the politician's office one day.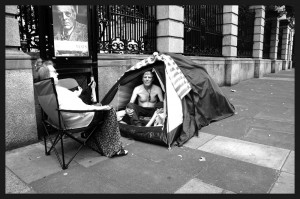 The pangs of pain I felt in my abdomen already on the second day gave me so much compassion and understanding of the millions – perhaps billions – of people who are hungry and starving, each and every day.  I was choosing to not eat.  And for merely four days.  I knew, in my mind, that this pain and discomfort would end.  And precisely when it would end.  I was in control.  Starving people – at least from the outer appearance of their situations – have no choice.
That was the first revelation, the first 'maturation' I gained through this experience.
The second was … a realization of amazement.  That … in Brazil, and countries like it, people are intimidated from speaking their minds, their concerns, through physical threat of incarceration and torture.  In Canada, and countries like it, people are intimidated from speaking out via psychological intimidation.
We brand people as 'crazy'.  We outcast them.  We scapegoat them.
We have such a tight hold on the 'minds' of our populace.  A hold so invisible.  In cultures such as Brazil's, the oppressor is visible, named and nameable, seen.  In cultures such as Canada's and other 'developed' countries it appears innocuous.  It is just as potent.  It is invisible, hidden, surreptitious, sly.  We are not to notice it, not to question it.
It is the gauntlet.
* Hundreds of readers have been enjoying this provocative post.  It is an excerpt from "Running the Gauntlet – Navigating Our Way to Our Fully Embodied Potential", one of three 'mini-books' in The Trilogy Awakening Instinct * Running the Gauntlet * Windows Through Time.
To read more ideas like this, peruse the entire book … Awakening Instinct * Running the Gauntlet * Windows Through Time
 – A Trilogy by Ariole K. Alei.
Click on this link to get quick access to
Preview the book 
Download the book
Purchase a softcover copy of the book
Listen to a Free Intro to the Audio Course based on the book
and / or Purchase the Audio Series based on the book
There's so much more at your fingertips to enjoy and be inspired by – right now  🙂
Questions to Ponder:  In what ways do you 'give in' to intimidation?  What leadership potential – potential to beneficially effect change – are you suppressing?
Want more info on 'Running Your Gauntlet' and 'Living Your Full Potential'?  Want personal mentoring in exploring what  it is to live YOUR full potential? 
* Images with gratitude to ruraluniv.ac.in, indymedia.ia and koreyking.com