'First Contact' is essentially the first time Star Beings will make themselves visible to more than an isolated few.
            My friend in the UK – a retired consultant to major corporations (see "First Contact I") – is in direct psychic contact with "millions if not trillions of craft currently in our atmosphere".  He is not the only one.  Google 'extra terrestrials', 'ufo', 'aliens', and related subjects and you will find literally millions of entries – including "Scientists find Extraterristrial genes in Human DNA" .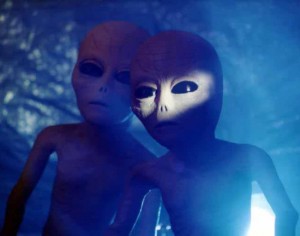 Whether this be fact, fancy, fluke, or massive hoax, consider this:  If Star Beings make their presence known[1], this will shift our human psyche[2] so massively – on a scale akin to the paradigm shift that occurred when our 'flat Earth' perception shifted to our 'round Earth' paradigm. 
            Currently we have the 'option' of believing that we are the sovereign species in Creation.  That we are the 'big cheese', the most powerful force in the catalogue of species that exist.  We view the planets and the stars as 'out there' – as relatively static objects that weigh minimally on our reality.
            If / when First Contact occurs, our entire paradigm of orientation will be turned upside down.  Beings capable of materializing into our experience from a previously de-materialized state beyond our awareness will shock our Egos out of their current daze of perceived dominion.
            Whether you consider this as possible truth, fantasy, or science fiction is neither here nor there.  If Space Beings exist, they exist.  If First Contact happens, our entire civilization will be affected.  Nothing – for the way our mind perceives reality 'is' our reality – will be the same.  Everything will exist within this new context, this new paradigm.
            Take a deep breath.  Look around you.  Actively see the world – through pure perception, in this moment, Now.  Smell it.  Feel it.  Sense it.  Taste it.  Get your bearings – actively.  Know where you are in Time and Space.  So that if this paradigm shifts, you will have this clarity in relation to it.  You will have this pure perception in this Now to ground you, to allay your Ego's potential fear.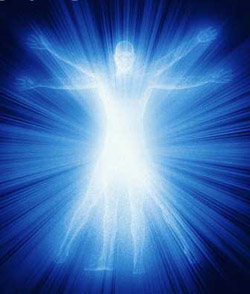 So many of the accounts I've heard  – first hand from experiencers, second hand through other sources, as well as my own – speak of unbelievably benevolent beings.  "The Light they emanate is brilliant, almost blinding in its intensity.  They radiate Love so pure – an 'unconditional Love' as we have all longed for it, always." 
             It is possible that much of the media and governmental information we have received regarding ETs is crafted.  That the 'aggression' idea surrounding ETs is not entirely true.
            Considering the possibility of First Contact will prepare you.  If it happens, it will not be such a surprise.  If it doesn't happen, you may have pondered the most fascinating fantasy possible in 'real life'!
Questions to Ponder:  Have you had any direct experience with 'paranormal' beings?  Have you heard of anyone who has?  When you consider First Contact, what is your response?  Are you excited?  Impatient, wishing it would happen now?  Scared?  Skeptical?  Unsure?
Take a deep breath …  And imagine the possibility that we might have 'friends in the galaxies'  🙂
Want personal mentoring in exploring your own preparation for the possibility of First Contact?
---
[1]
 First Contact is anticipated by many to be within the next 4-5 years – and perhaps as soon as 2012.
[2] Our sense of identity – our Ego's orientation in 'Space and Time'.  See the forthcoming The Ego and The Soul – A Map for Humanity's Ultimate Survival for more on Ego and its role in shaping our identity and our 'bearings'.
* Images with gratitude to ufopicture.org, news-relay.com