The contrast of doubt is hope.
             What will it take to compel humanity from complacency and despair into solution-focused action to resolve our global environmental and economic crises?  Wherein lies the key to widespread peace?  How can we leverage ourselves – individually and as a species – into truly living our potential?
* Awareness   * Vision   * and Will
             Here's a roadmap for igniting your hope and directing your Awareness, Vision and Will towards constructive, inclusive, highly benevolent societal change  …
             See the forthcoming posts "Asking Questions" for excerpts from this empowering book.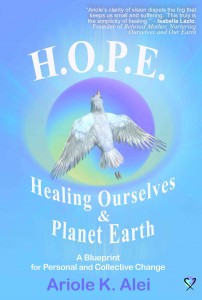 As you read the pages of H.O.P.E. you will
*    Grasp the connection between your own physical, emotional, mental, and spiritual healing … and the healing of humanity and our relationship with both the environment and each other
*    Re-sensitize yourself to the gift of life … becoming fully present in The Power Of Now
*    Discover that you can handle your experience in this very moment no matter what it is
*    Understand the simplicity of how wounding happens and receive the first-ever map of How Healing Works
*    Reawaken your ability to Vision a positive future and reengage your Will to help build it
Buy the 8 Session Audio Course
Read an Excerpt – watch for "Asking Questions" – coming soon!
             This simple and inspiring book contains
7 Focus Areas for Visionary Consciousness in Action – including Health, Food, Water, Shelter, Clothing, Community and Contribution
Dozens of easy to apply suggestions of how to evolve the way you think and change your simple everyday behaviors for the common good
3 Simple Scripts for Healing
4 real life Healing Stories to light the way for your own empowerment and your personal contribution to local and global wellbeing 
Be the Change.  Your Contribution Counts.
"Ariole's clarity of vision dispels the fog that keeps us small and suffering.  This truly is the simplicity of healing."  – Isabella Lazlo, Founder of Beloved Mother, Nurturing Ourselves and Our Earth
Questions to Ponder:  What hope do you feel about humanity's potential to avert ecological and economic collapse?  What hope do you feel about a new birth – a quantum leap – of the human species? If you feel despair, what is the foremost cause of your despair?
Want personal support in exploring this deep and vital questions?
* Book cover by janrosgen.com