Take a moment to reflect on a recent situation in which you felt anger.  Which of these 3 Purposes was the anger fulfilling?
1. Was the anger rising inside of you endeavoring to alert you to a boundary that had been breached?  And / or to the need to create a boundary … precisely … 'there'?
2. Was the anger present inside of you endeavoring to alert you to this: that unless you erect or fortify a boundary, it is about to be breached? Was the anger a premonition?  An ally attempting to assist you to preserve your well-being, your power, your dignity?
3. Was the anger present inside of you actually your soul propelling you out of your current norm and into a new experience of life, yourself, the world?  Was it arising to make your present moment so unbearable that you'd 'give in' and allow yourself to grow?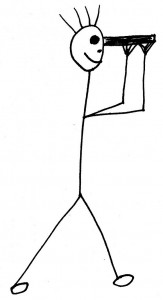 Notice what you notice as you ponder these questions.  And write your reflections – without censorship.  Your deeper mind is assisting you – in these moments, now – to wake up to anger – and to allow it to become your ally.
____________
Listen to this post as a 'podcast'! Identifying the '3 Purposes of Anger' In Your Life recorded using the omni-dimensional 'Star Microphone' by Wehnersound.
____________
* This post is #10 in a series of syndicated excerpts from The Power of Anger – Blasting Through Your Limitations and Transforming The World by Ariole K. Alei. Order the book – softcover shipped to you, or instant download. Or listen to the 4-Part Audio Course.
* Images with gratitude from The Power of Anger.