Any anger that you've felt and not expressed – ever – is stored inside you, now.
Let's shine a flashlight and gently uncover it.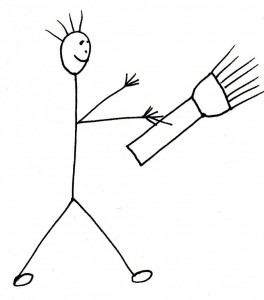 'Life Wheel'
Take a piece of paper and draw as large a circle as you can on it.  Divide this circle into eight 'pieces of pie' – with one horizontal line running across it, one vertical line running from top to bottom of it, and these four quarters divided again in half.  Eight pieces of pie.
These are the primary areas of your life.
Just outside of each of these areas, write these words – one for each area …
Health/vitality
Money/finances
Career/business/volunteering
Home/office environment
Romance/significant other
Friends/family
Personal growth/spirituality/character
Fun/recreation
Like this …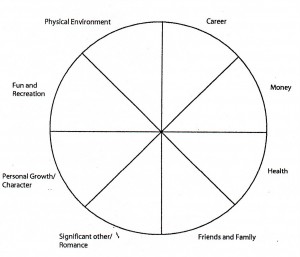 ____________
Listen to this post as a 'podcast'! Where Your Anger Hides – Part One recorded using the omni-dimensional 'Star Microphone' by Wehnersound.
____________
* This post is #27 in a series of syndicated excerpts from The Power of Anger – Blasting Through Your Limitations and Transforming The World by Ariole K. Alei. Order the book – softcover shipped to you, or instant download. Or listen to the 4-Part Audio Course.
* Images with gratitude to The Power of Anger.