Birds' Eye View – A Travel Guide to the Universe is a 'spiritual adventure story'.  Rich with the intrigue and transformative power of Way of the Peaceful Warrior, The Celestine Prophecy, Conversations with God
, and The Da Vinci Code
, Birds' Eye View is a 'Map' for the awakening of human consciousness. 
             Step into the magic of its pages as it compelling guides you gracefully into the realms of quantum physics, spirit guides – including Shakespeare's soul and God, past lives, private meetings with His Holiness the Dalai Lama, planetary transformation, the reactivation of the 'Dove', and the ultimate evolution of humanity. 
             A mind expanding 'autobiography' akin to the classic Autobiography of a Yogi
and spanning 40 years of 'Earth' and all of 'Space and Time', Birds' Eye View is humorous, magical and insightful – as if Shirley MacLaine, Eckhart Tolle, and Stephen Hawking were mystically combined into one 'voice'.
             Keep watching for excerpts from this inspiring book … including "A New Voice Speaks" and "Preparing the Field" … forthcoming!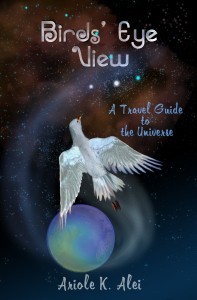 Preview the Book
Taste the book as you read these mini excerpts!
             "I was distinctly aware that I had no idea 'why' I was remembering Pedro.  Other than to feel less alone knowing that he, too … 'saw the vision'.  Was there something we were to do?  I listened in for further guidance and I was shown that, together, he and I would 're-create the forgotten language'.  The language which we all – all humans on this Earth – had once spoken yet had forgotten.  An ancient, unifying language which we all would speak again.
             …
             "It wasn't like sending out invitations.  Because this was not to be a gathering 'on Earth'.  It was to be a journey into deep trance, to awaken collective memory.  And only if the Time was precisely right would the 48 + 2 know to come.  … I gave away most of my belongings.  I left the continent of my birth in this lifetime.  And I flew.
             …
             "So we were led to India.  To meet the Dalai Lama.  … Suddenly, all went silent.  Inside of me, there was a silenced din.  I saw it then.  I was shown it clearly.  … I saw myself passing a white envelope to His Holiness.  Without opening it, he knew its contents.  The message within it was simple …  'It is Time'.  He knew his role.  He was to set sacred steps of energy into motion."
 * Excerpts from Birds' Eye View – A Travel Guide to the Universe
"Ariole's clarity of vision dispels the fog that keeps us small and suffering.  This truly is the simplicity of healing."  – Isabella Lazlo, Founder of Beloved Mother, Nurturing Ourselves and Our Earth
Questions to Ponder:  Have you ever seen Visions or heard Voices – or sensed the presence of a non-physical being?  
What is your sense of who we are, where we come from, and why we're here?
Have you ever had a direct experience of 'God'?
Want personal support in exploring these deep and vital questions?
* Book cover by janrosgen.com