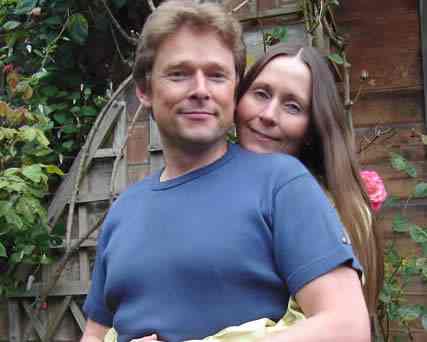 It's always fun to watch people's response as they discover that my husband and I have known each other for eleven years.  Their assumption is that we've just met!
            This fascinated bewilderment – and inspiration that registers upon their faces – is something we've been witness to for years.
            I've always known that we have an exceptional – a very unique – relationship.  In fact, within our first year we were so aware of this that we began to 'observe ourselves' – to notice what it is that we are doing, and how we are being, that results in our phenomenal relationship.
            One of the results of this continuous observation of ourselves is HeartSong: Conversations About Love, Joy and Sex – Discover the Secret to a Fulfilling Love Relatiohsip.  Colin had the inspiration of us writing a book together and, having never co-written before, we simply sat together, with me at the computer, and we conversed!  HeartSong is actually a dialogue between us about how our relationship so miraculously 'works'.
            Even with HeartSong written and available to the world, it's still delightfully amazing every time someone discovers that we're 'not newly-weds'.
            And so I've begun to ponder yet again … what makes our relationship so different?
            Yes, Colin and I met once both of us had already explored a lot about ourselves.  We were relatively mature and self-aware emotionally, response-able, and committed to living in integrity.
            Yes, we both already had the capacity to observe self and other, and had a strong desire to experience 'sacred union'.
            Yes, we both had the ability to deeply listen – and to respect.
            Yes, we both had the capacity to deeply care.
            And yet … why did this combination create such a remarkable relationship?
            This morning I realized another clue … We are so close.
            How is it that we can be, day in and day out, through challenges, inspirations, and opportunities, so close?
            The answer is that there is virtually nothing that separates us – there is virtually nothing between us, 'in the way'.
            What, then, is 'in the way' for most couples?  Everything that has disturbed them that they have not discussed and/or individually resolved.  Every time something bothers us and we don't resolve it, as human beings, it creates a wedge between us and other that negates the potential for genuine closeness.
            Intimacy is based on the ability to be close.  Trust is based on the ability to feel safe in another's presence.  When issues are left unresolved, the potential for trust, intimacy, and closeness is not an option.
            There's so much in this little nugget …  How do we communicate so effectively, such that nothing is left unresolved?  How do we effectively 'check it out' and confirm that the other is worthy of our trust – that in their presence we feel safe?  How do we place respect so centrally in our dynamic that everything is oriented by this covenant – this sacred principle?
            And, more importantly, how can you experience this, too?
            Colin and I recognize that everyone wants love.  Everyone wants to feel respected.  Everyone wants to be desired – and to feel safe to respond to another's desire.
            Yet this experience is so elusive on this planet.  Sacred love is such a rarity.
            We have it.  We cherish it.  And we seek opportunities to share it with others – to teach, to mentor, to coach – others to find their principles of sacred love.
Questions to Ponder:  What is 'between you and your love'?  What have you not expressed?  What have you not resolved?  Of this, what can you resolve inside yourself, privately, without needing the agreement or participation of your partner?  What elements do you have (e.g. sincerity, trust, determination, vision) and what is missing (e.g. courage, clear expression, forgiveness, deep listening) in your relationship equation?
Want more exploration of these important questions?  Read HeartSong: Conversations About Love, Joy and Sex – The Secret to a Fulfilling Love Relationship, listen to "Soul Mates – How to Attract Your Perfect Match, or contact us for individual and couples Coaching.  
Do you sense you have wounds from past relationships in the way of present love?  We can help you gently and effectively get past this, too  🙂
Be the love you wish to see in the world!