So what are some ideas – that I've tried and can guarantee work – that might start you on your way of 'cultivating courage'?             
            Here are a few that I've chosen in my first week …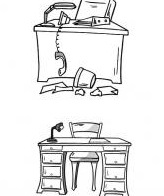 Leaving clothes unfolded in my pack sack when I knew they'd be going straight into laundry when I got home from my camping trip. (I'm typically a very neat person.)
Repeating the same the next day – this time with the bed linen I was putting away in a bin for the day.
Taking a different route on my run – that is, 'shaking things up' in my habitual 'safe' routines.
Calling six people I've never met, all of whom are respected in their fields, to invite them to become my clients.
Following up with someone I'd felt 'rejected' by, and initiating a next conversation.
Making love in a way that pulled out numerous of my fear stops.
Staying in my heart for twenty-four hours.
Initiating contact with a new publisher for my forthcoming book – and doing so without attachment or expectation, to the best of my ability.
Presenting a proposal to a client, for a large contract, and being direct about my proposed value and thus price.
Writing these posts, and disclosing my current 'personal, private experiment' – that is, a risk of failing in public eyes.
            Whahoo! It gets easier every time! And by the way … what exactly is 'failure', anyway? It is the Ego's idea of loss of sense of self.              
_____________________________
Read more in "Cultivating Courage" and "Cultivating Courage – The Practice – Part 1 and 3".
Want more now? Purchase or Download these now:
Explore the benefits of a 1-1 private Coaching conversation! 
* Images with gratitude to freeprintable – uploads.j-assets.com, ehow.com, goddess-light.blogspot.com