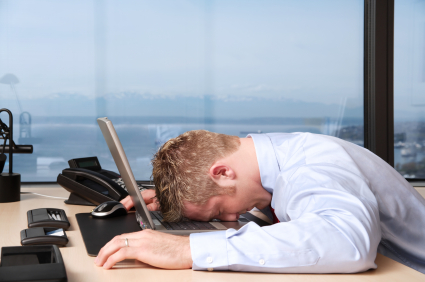 Recently a Client described herself as 'exhausted'.  To assist her to shift into a more desirable state of experience, I asked her to attune inwardly and identify if this exhaustion was
a). physical
b). emotional
c). mental
d). spiritual
or e). a combination of these.  
            She reflected for a moment, noticing the subtleties of her experience.  Then she proclaimed, "I feel exhausted on all levels!"
            If she had identified extreme fatigue on a particular level, I would have guided her into a regenerative experience on that specific level.  As this was an experience of 'overall exhaustion', it was obvious to me to guide her into a state of deep relaxation – for 'relief'.
            I guided her step-by-step into 'Savasana'.  (See forthcoming post on "Savasana".)  Typically thought of as a Yoga asana or 'posture', Savasana is, more aptly, a gateway into a deep letting go of tension on all levels.  Translated from Sanskrit, it literally means 'corpse pose'.  When entered into effectively, it is the most relaxed you can be – short of being dead! 
            To give you a sense of Savasana's unparalleled richness, it's said that ten to twenty minutes of deep rest in Savasana is equivalent to eight hours of a good night's sleep.  Ten to twenty minutes!
            And so this Client blissfully 'let go' as she released deeper and deeper into her own experience of Savasana.
            As she began to describe the shifts within her – refreshed, 'light', easy, gently floating, carefree, joyous – I asked her to notice how this is different from 'exhaustion'.  She laughed!  Immediately she recognized that exhaustion is a sense of burn out, empty batteries, sluggishness, even depression.  Relaxation is a sense of freshness, possibility, confidence, renewed optimism, motivation.
            We then explored how most people, when they become self-aware (i.e. they notice) that they're feeling exhausted, stay exhausted.  It's as if they assume that this is a necessary state, unalterable, a penance or a quota of something they must allow and suffer through.  (See forthcoming post on "Suffering Is An Option".)  They typically don't realize that exhaustion is a signal, a messenger delivering a message – a request to relax and rejuvenate.  (See forthcoming post on "Messengers and Messages".)  When we heed this message – when we take action to rest and replenish ourselves – the exhaustion magically goes away.
            How simple is this?  Like all 'enlightenment', it requires self-awareness – observing our experience – and making a pro-active choice to experience something more desirable.  (See forthcoming post on "4 Steps to Plenty".)
            In short, when you notice yourself feeling tired, fatigued, or even exhausted, take a few moments to constructively rest.  Savasana is one of the most effective and time-efficient ways to do so.
Practicing Savasana:  How often do you climb into bed exhausted?  Do you wake up in the morning considerably more refreshed – or still exhausted?  Consider setting the tone of your sleep with a few minutes of Savasana first.  Your body, heart, and mind will soften, connecting with the source of your regeneration which is your spirit – allowing a richer and more sustained experience of rejuvenation. 
Consider also a few minutes of Savasana at break times throughout your day.  It's like plugging an electric car into a socket and receiving a recharge.  It's simple, costs nothing, and feels so deliciously great!
Question to Ponder:  What's the difference in your experience between exhaustion and relaxation?  When might you explore Savasana and discover the recharge it's waiting to give to you?  Who else benefits when you're refreshed and relaxed?
Who else might benefit from reading this article?  Share it!  More energized and refreshed people in this world will make a 'world of a difference'.
Interested in more ways to deeply relax?  Listen to a Free Audio Meditation – "Be In the Now".
* Image with gratitude to arhtritisfoundationwpa.wordpress.com