What is a metaphor?
'This bag is as heavy as a rock.'
'When the sun shines, it's like liquid gold.'
'When you want something, imagine casting a fishing line … then reel yourself to the hook.'
             What happens as you read these?  Where does your mind go?  What do you see, feel, hear?
             Metaphors are a powerful, sublimely simple, explicit way to communicate expansive concepts.
             How do they work?  They connect something tangible to something abstract, linking your existing understanding of the latter to the former.  As you comprehend what is being described in the 'abstract', it immediately makes sense in the 'tangible'.
             Read the examples above again.  Can you recognize how these particular metaphors 'work'?  How they are effective in assisting you with minimal use of words to understand something potentially complex?
             Metaphors are cousins of parables, stories, and other great ways of communicating intricate concepts simply.
             What are metaphors for human awakening?  For the substantial evolution of our species?  For the awakening of human consciousness from its amnesia – into the vastness of wisdom that we havetemporarily forgotten throughout all of Time?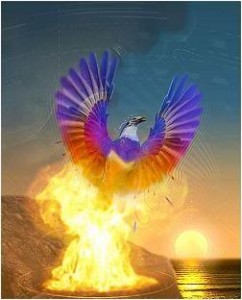 The Phoenix Rising from the Ashes
A Dragonfly Beetle cracking open its Shell
A Butterfly Caterpillar emerging from its Coccoon
A Volcano Erupting
A Seed bursting forth from the darkness of the Soil into the Light
A Lotus Flower blossoming forth from the depths of the Water
Cracking an Egg
Bursting Out of a Shell
Questions to Ponder:  What metaphors would you add to this list?  When you feel like you're breaking free of an old restriction, how would you best describe this?  Be inventive.  Be curious.  Be playful.  Find a metaphor that succinctly, aptly describes your experience.
Have fun! 
Want more info on Metaphors?  Read Birds' Eye View – A Travel Guide to the Universe.  It's full of metaphors!
* Images with gratitude to rrsgupta.wordpress.com and phoenixrising.forumotions.com