It all began when I was ten.
             I may have experienced altered states of consciousness before then, but if so, none that had constellated themselves as clearly as this …
             Eyes closed.  Seeing inward.
             Me.  In a log cabin.  Simple, rustic.  Red checkered curtains.  Then a swift awareness that the inside of the cabin wasn't what was important for me to see.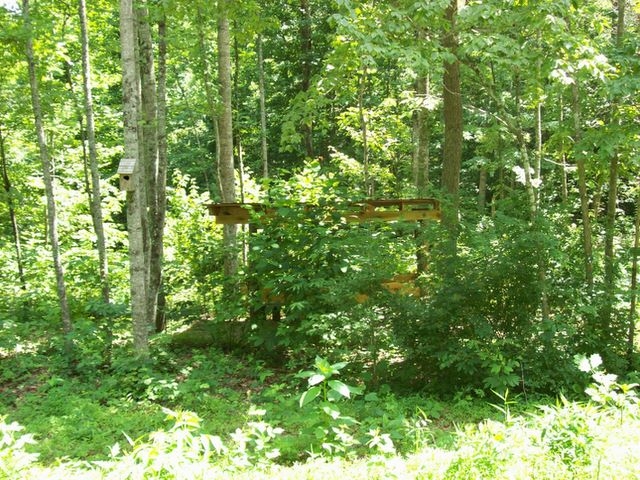 Outside now.  Back toward front door of cabin.
             Before me, open air.  A beautiful, spacious yet intimate, moss covered clearing.  Towering, friendly trees, waving their branches in the breeze.  Sunlight, glimmering, catching glances through the leaves.
             Down, to my left, a gentle creek flowing … forward, toward the future.
             In the centre of the clearing, a table.  At which 'I' sat writing.  Me, alone, dressed in a flannel shirt.  A book.  About what, I didn't yet know.
             And an awareness, clear, like the thrill of a bird's call held, in crisp air.  'I will live off the land.'  Meaning, I will be self contained somehow.  And … 'I will be alone, or with someone who allows me to be alone enough to write' …
             That was the vision.
             I never spoke of it to anyone.  I was raised in a culture which either didn't experience these things, or didn't speak of them.  It wasn't a part of the fabric of our communication.  So I didn't tell anyone.  Not because I was afraid, or embarrassed, or …  Just because no one spoke of these things.
             I forgot about the vision, I suppose, in the busyness of growing up.
             Except when it visited me again, of course.  Twice.  Years apart from each other.  Like sprinklings, economical, only frequent enough to be noticed.  Like the breadcrumb trail in "Hansel and Gretel".  Just enough.
             Both times when the vision re-visited me, I was in the company of other people.  Once I was at a party, in a circle of people conversing.  Suddenly, gently, my awareness was drawn … away from the conversation, as if it became a silent din.  And as they continued their animated discussion, 'I' watched.  – The vision unfold again.  Precisely as it had done, years before.
             Each of these times the vision recurred, I never spoke about it with anyone.  It was out of context.  There was no constellation of public discourse into which it fit.
             So I silently carried it, knowing that there was nothing I needed to 'do' with it.  Knowing that, if it was going to come into existence … it would do so, of its own accord.
             Which is precisely what it did, eighteen years after it first visited me.
© 2006 Ariole K. Alei 
Excerpt from Birds' Eye View – A Travel Guide to the Universe.
Breathe …
Questions to Ponder:  Have you ever seen a Vision, heard a Voice, or experienced a Knowing – an absolute certainty about something?
Keen to receive personal mentoring in exploring your own spiritual evolution?
* Image with gratitude to clearcreekcabins.com