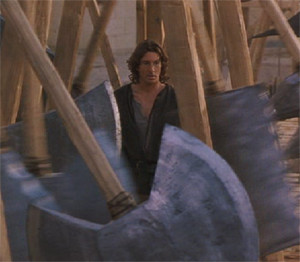 What is the gauntlet?
            To be able to see it – to recognize it, to lift the white sheet that protects it, to reveal it – perhaps we must first identify what it is that it impedes us from.  Who – or what – is the 'prince or princess' for whom we run through it?
            Regardless of whether our own belief system holds e-volution or de-volution to be 'the truth' of our trajectory, we can all acknowledge that each of us is endowed with gifts, qualities, attributes which hint at our full potential.  Who we are at this moment is an aspect of who we can become.
            There is in this world of human creation and human thinking both a downward and an upward spiral of energy.[1]  Basically, when we commend and encourage and celebrate that which is life affirming, we are participating in and breathing powerful life into the upward spiral.  Conversely, when we get caught up in criticism and blame and complaining – either believing ourselves to be or marking someone else as, a victim – we are contributing to and sucked down by the downward spiral.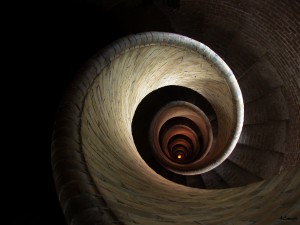 This downward spiral is largely invisible.  It takes an open mind, able to see that which is not always apparent, to detect it.[2]
            Included in this downward spiral is the cultural belief of lack, of insignificance, of littleness.  It is like an invisible glue that keeps us small, that keeps us believing in what we can't do, rather than in what we can.
            I realized as a child that perhaps the most precious 'gift' we can receive at a young age is the gift of someone who believes in us.  I recognized that life – what a person's life becomes – is very much a reflection of whether we were supported or chastised as a child.  If we had the good fortune of having positive experiences – ones in which we felt good about ourselves and/or for which we received adoration and praise – we are more likely to have many more empowering experiences throughout our lifetime.  I realized that the majority of people did not have such 'positive experiences' in their upbringing.  As a result they often lived their whole lives in self-doubt.  They lived 'small'.
---
[1]
  See Beck and Cowan's work in
Spiral Dynamics: Mastering Values, Leadership and Change
 and David Hawkins' 'Map of Consciousness' in
Power vs. Force
.
[2]  I describe this as 'Psychic Undertow' in Awakening Instinct – the true feminine principle.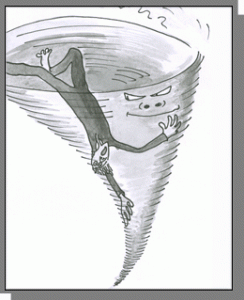 * Excerpt from "Running the Gauntlet – Navigating Our Way to our Fully Embodied Potential" in  Awakening Instinct * Running the Gauntlet * Windows Through Time – A Trilogy by Ariole K. Alei.
Read more in "The Most Precious Gift", "Our Full Potential" and "Sensing Your Full Potential" forthcoming  🙂
Note:  This post is excerpted from the same book as "'Brazil' – Hunger Strikes, Rallies, and Effecting Change".
Questions to Ponder:  What do you sense 'The Gauntlet' is?  How does it affect you – personally?  How does it affect us – as a culture?
Are you interested in 1-1 support in exploring this further for yourself?
* Images with gratitude to sabbathsermons.files.wordpress.com, patdollard.com, studentdepression.org