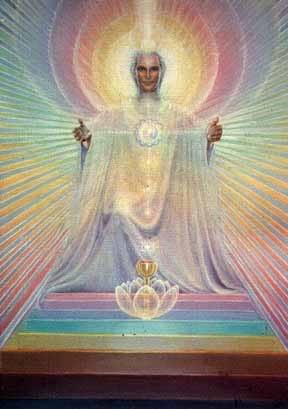 As Tom Kenyon says, "Some of you experience gnosis – direct connection with the Divine."
            Perhaps, as you are reading this post, you are experiencing gnosis.  You, and I – as we have done throughout eternity – will innately hold the space for others to comprehend what flows here now …
            As part of the DNA structure of every human being, we each have seven 'chakras' – energy centres, like railroad stations and airport terminals, where energy pathways in and through our system 'merge'.
            These seven charkas are located inside the parameters of our physical body – though they, themselves, are not physical.  They are energetic.
            The next chakra to fully awaken in the human vibrational field is, sequentially, the 8th.
            Have you ever seen a painting depicting Jesus, Virgin Mary, or a Saint?  Or their equivalents in other religious traditions?  Do you recall the orb – the ball of translucent Light – encircling their head?
            This was a literal depiction of their activated 8th chakra.  Painting this was a humble, accurate, respectful acknowledgment of their uniqueness, their more highly attained mastery than 'mere humans'.
            The nature of their being, via which we have historically recognized them as Saints, emanated from the simple fact that their 8th chakra was 'open'.  Open, and awake.
            Human consciousness has sufficiently evolved that we are now on the brink of awakening our 8th chakras.  Some of us are the pioneers in this.  We scout and map the pathway, that others may glide easily in our footsteps.
            How do you intentionally assist your 8th chakra to awaken?
            …
            Like all shamanic practices, this is simple – and potent.  Explore it in a tiny dose.  Explore it gently.  For it is powerful beyond measure.
            If you are not 'ready' for this practice, the key will not present itself. 
            If you are ready, you will experience the activation to which it leads …
            …
            Sit or lie in a comfortable position …
            Uncross your limbs … Let your weight fall … down … and back …
            Notice how your breathing naturally slows … like a baby's … deep, deep down into your belly … breath, like water, flowing through your arteries, your veins …
            Breath, the water of life, letting it wash through you …
            Ahhhhh … yes …
            Notice a pathway … down the back of your spine … A pathway … of Light …
            Like a horse's mane, gently 'comb' it … with the pure intention … of your mind … assist it to freely flow … downwards, like a waterfall …
            A horse's mane … of Light … flowing, and flowing, cascading over and over, gently … down your spine …
            As you begin to feel … this wondrous trickling of Light … downwards, eternally abundantly omni-dimensionally downwards … notice how it flicks a light switch 'on' …
            Notice how it switches 'on' your 8th chakra … the radiant 'crown', the glowing orb of consciousness, around and above your 'head' …
            Be with this … simply assist, gently, tenderly, this 'mane' of white golden Light … flowing down your spine … switching 'on' … your 8th chakra …
            …
            When you feel complete, simply rest …
            Rest … and breathe …
            Allow your entire being a few moments to rest … to integrate …
            Simply breathe … and rest …
Interested in other Meditations?  Does this ignite your curiosity about your own consciousness awakening – and about the mass awakening of human consciousness on planet Earth?  Want personal mentoring in how to practice this?  
Activate your 8th chakra!
Namasté  🙂
* Image with great gratitude to Ethereal Mind